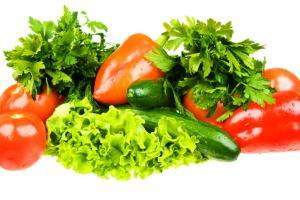 Summer is the time of year when many people try to lose weight and get in to shape. One way to do this is with healthy lunches such as salads.
Homemade salads can make a healthy, low salt alternative to sandwiches. Using bases such as pasta, rice, potatoes or couscous will help to fill you up. Marinate meat or fish prior to cooking or cook with spices to give extra flavour. Steamed or tinned fish (in spring water) such as tuna or salmon are lower in salt than smoked fish. Using chopped fresh herbs and different homemade dressings will also add to the flavour.
2014 Salads Topped with Secret Salt
2010 Salad survey reveals hidden salt in bought salad and pasta bowls
Top tips to reduce your salt intake in salads
Cous Cous with Chicken, Rocket and Pine NutsThis light and refreshing salad is a real vitamin boost. Not only will it give you two of your 5-a-day, it avoids the salt that's added to shop-bought dressings.
Cous Cous with Roast VegetablesA filling and flavoursome lunch which is perfect for preparing in advance; either make in one go or keep some roasted vegetables in the fridge and make the couscous as and when you need it.
Pasta Salad - ChickenA very filling salad - add it to a main course, or make it the main course! Make it your own by adding your favourite salad ingredients, pair with your preferred dressing and enjoy.
Pasta Salad - VegetarianThis creamy pasta dish is easy to prepare and will be on the table in no time.
Salad - Avocado and MozzarellaThis Italian salad is a perfect light lunch for one. You can prepare it the morning or the night before you need it.
Salad - Summer CountryA light but sustaining salad with new potatoes, avocado and a tangy dressing.
Salad - TunaA French style tuna salad, perfect for lunch in the summer.
Salad - Tuna and BeanA healthy and filling salad, great for lunch or a light supper.
Salad Dressing
This simple vinaigrette can be used as is or can be a basis for creating a variety of flavours without including all the unnecessary salt of shop bought dressings.