Although most of the salt we eat is hidden in the processed foods we buy, there is still a number of things you can do to help reduce your salt intake when cooking or eating at home.
Our top tips:
Cook from scratch using unprocessed meat, fish and vegetables
Use fresh, tinned or frozen vegetables with no added salt
Avoid adding salt during cooking, try adding other flavours instead
Always taste your food before adding salt at the table
Cut back on sauces such as soy sauce, ketchup, brown sauce and salad dressings as these can be high in salt
Choose lower salt-stocks, use half a stock cube, or make your own low-salt stock
Remember sea salt and rock salt have the same effect on the body as normal table and cooking salt
Stick with it! Food may taste bland at first but within a few weeks your taste buds will adjust and you'll taste the same amount of flavour, with less salt!
Try reducing the amount of salt you add gradually over a couple of weeks, allowing your taste buds time to adjust
If you can't get used to less salt, try using low sodium alternatives such as LoSalt
Tips for shopping...
Know which foods are high in salt and try to swap these for healthier alternatives. See our shopping guide: PDF Leaflet - Shopping Guide [PDF 606KB]:
High salt foods include:
- processed meat and fish e.g. ham, bacon, salami, sausages, pate, smoked fish
- convenience foods e.g. pizza, pasties, ready meals, canned/packet soups
- salty snacks e.g. crisps, salted nuts, burgers, chips, salted popcorn
Always remember to check the labels and choose lower salt options
Swap from branded products to retailers' own brands, as they tend to be lower in salt
Look for lower salt and 'no added salt' versions of your usual foods in the supermarket e.g. canned vegetables, tinned fish in spring water, ketchup and baked beans
Ideas for adding flavour in place of salt - herbs, spices and other flavours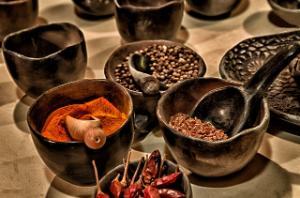 Use a mix of herbs and spices to add to the complexity of flavour of your foods
Frozen, dried or fresh herbs will add and enhance flavour e.g. basil, oregano, tarragon, parsley, coriander, mint
Spice things up - black pepper, curry powder, cumin, cayenne pepper, chilli powder, ginger and coriander are just some of the wonderful spices you can use to add flavour
Watch out for the ready mixed herbs and spices in the supermarket e.g. Cajun mix, as these can be high in salt
Steam vegetables lightly to retain the colour and flavour and add a dash of lemon juice or vinegar
Make your own salad dressing based on balsamic, cider or rice vinegars
Use lemongrass, fresh coriander and a small amount of sesame oil to flavour stir fries instead of soy sauce
Marinade fish or meat prior to cooking (ideas below)
Add red wine when cooking stews or casseroles to enhance the flavour
Make your own gravy, or go for red wine sauce instead
Use an infused olive oil, e.g. garlic, basil, chilli or rosemary, to sauté vegetables or as part of a salad dressing
Some ideas for marinades...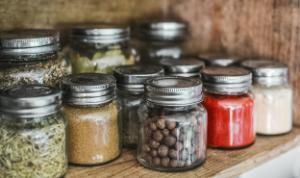 Great for chicken or pork - honey, ginger, garlic and olive oil
Great for lamb or fish - ginger, coriander, lime zest and juice
Great for beef - black pepper, chilli and vegetable oil
Great for chicken kebabs - Paprika, garlic, lemon juice and vegetable oil
Great for fish - chopped fresh dill, olive oil and lemon juice
Add a squeeze of citrus...
Squeeze a dash of lemon or lime juice over your food instead of salt
Drizzle olive oil, lemon juice and black pepper over salads or boiled new potatoes
Add a dash of lemon juice and some chopped mint to peas and green beans
Squeeze lime juice over stir fries, curries and lamb dishes
Add grapefruit or orange to salads
When roasting chicken, add lemon juice instead of salt to crisp the skin
Add grated zest of lemon or lime to curries
Add orange slices to casseroles
Sweeten with spices and fruit...
Try using the sweeter flavours of cinnamon, nutmeg, or mixed spice, and sultanas, raisins, chopped dried apricots or prunes
Roast carrots and parsnips with cinnamon or mixed spice and a drizzle of honey
Add cinnamon to savoury pork dishes, sweet apple crumble or porridge
Sultanas and cinnamon work well in hot pilaf or cold rice salad
Chopped dried apricots, mixed spice and toasted almonds work well added to couscous
Apricots or prunes added to meat casseroles will naturally sweeten and enhance the flavour