14 January 2019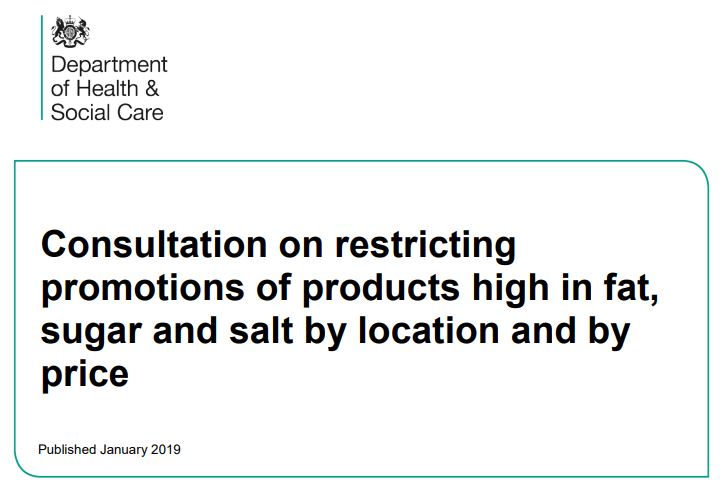 The Department of Health and Social Care today launched a consultation on restricting promotions of products high in fat, sugar and salt by location and by price. The proposed restrictions represent a key part of the Government's Childhood Obesity Plan and Action on Salt strongly support mandatory measures to restrict promotions. Previous voluntary initiatives, under the Public Health Responsibility Deal, have failed and so legislation is now required.
The food and drink we now consume is the biggest cause of premature death and disability in the UK and represents a huge burden on the NHS. Poor diets contribute significantly to the onset of heart disease, stroke, type 2 diabetes and some types of cancer. Diets high in salt, fat and sugar and low in fruit and vegetables account for around 30% of all coronary heart disease, while 5.5% of all cancers in the UK are linked to excess bodyweight. High blood pressure in particular is linked to heart disease, the biggest risk factor for which is a high salt intake. In addition, the large amounts of calories from fat and sugar in foods that only give a transient feeling of fullness or satiation are responsible for the worldwide obesity and type 2 diabetes pandemic. In the UK, 67% of men and 57% of women are either overweight or obese. More than one in three (34.2%) children aged 10 to 11 have a weight status classified as overweight or obese. Sugar also causes tooth decay.
The UK's current obesity crisis is complex and the result of several factors. While a single intervention cannot be effective, restriction on promotions of unhealthy food and drink would be an important step in addressing the obesogenic environment. Creating healthier environments, which enable the public to locate healthier options easily, can contribute to reduction in the UK's obesity rate, improvement of health outcomes and a reduction in the incidence of preventable cancers.
To view the consultation and submit your response, please visit https://www.gov.uk/government/consultations/restricting-promotions-of-food-and-drink-that-is-high-in-fat-sugar-and-salt