Health effects of dietary risks in 195 countries, 1990–2017: The Global Burden of Disease Study
Published:
Click here to read the full paper
Today The Lancet have released the next instalment of the Global Burden of Disease Study, investigating the health effects of our diet. The analysis included data from 195 countries and assessed the impact of 15 different nutrients - including salt, whole grains, sugar-sweetened drinks and processed meat - on deaths and disability caused by non-communicable diseases, such as cardiovascular disease and cancer.
The analysis found that 'suboptimal' diets – i.e. diets with too many unhealthy components or not enough healthy foods – were responsible for 11 million deaths worldwide in 2017, equivalent to 22% of total deaths. Cardiovascular disease was the leading cause of diet-related deaths (10 million deaths), followed by cancers (913, 090 deaths) and Type 2 Diabetes (338, 714 deaths). Almost half (45%) of the 11 million deaths occurred in people younger than 70 years old.
In 2017, more than half of diet-related deaths were caused by:
Eating too much salt - 3 million deaths
Not eating enough whole grains - 3 million deaths
Not eating enough fruit and vegetables - 2 million deaths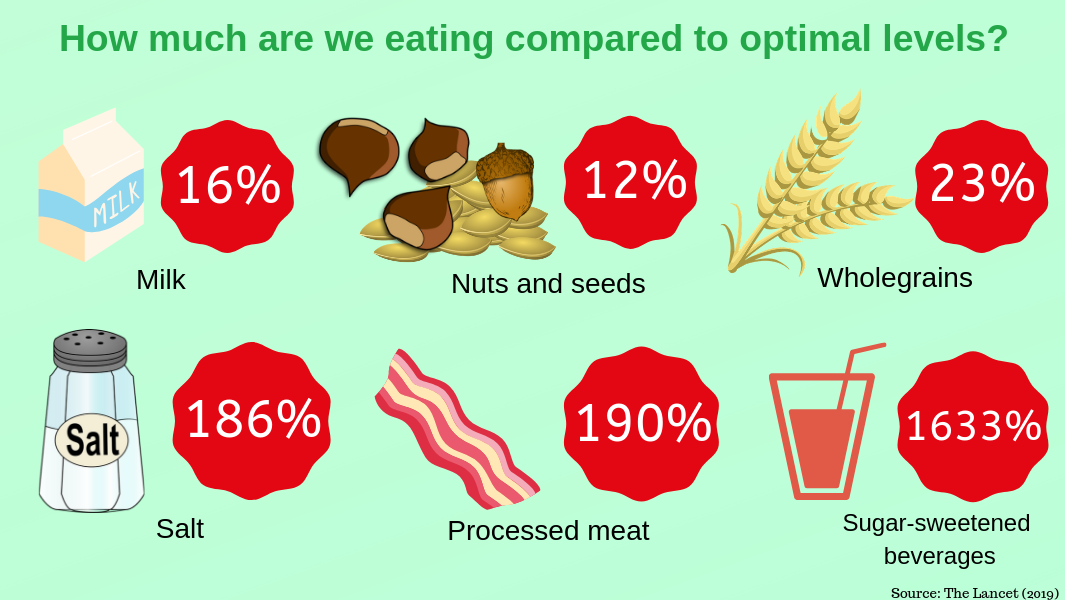 Average global salt intake was 86% higher than recommended levels and was the leading dietary risk for deaths in China, Japan, and Thailand. Consumption of sugar-sweetened drinks was 16 times higher than the recommended level, and was highest in younger adults. Intakes of healthier foods and nutrients was also lower than optimal intakes, with whole grain and nuts and seeds consumption at just 23% and 12% of optimal levels respectively.
The analysis also found that poor diet is responsible for more deaths than any other risks globally. Tobacco was associated with 8m deaths, and high blood pressure was linked to 10.4m deaths in 2017.
Sonia Pombo, Campaign Manager for Action on Salt, said "We've known the impact of salt on health for a long time now, but it is inexcusable that 3 million deaths each year are still caused by a high salt diet. The Lancet publication should be a wakeup call to food industry and governments worldwide to act immediately and reduce population salt intakes. Reducing salt is the most cost effective measure to reduce the number of people dying or suffering from strokes or heart disease. We urge the Secretary of State for Health to publish his long awaited new voluntary salt reduction plans in his green paper - due this month - without further delay".
Mhairi Brown, Nutritionist for World Action on Salt and Health (WASH), said: "Improving our diet could help prevent a fifth of global deaths each year and reducing the amount of salt we eat is one of the easiest ways to do this. Much of the salt we eat comes from processed, packaged foods though, and WASH surveys consistently find that the amount of salt in a product varies widely depending on the country it is sold in. The food industry have to step up and take responsibility here - consumer health must now take priority over profit".