Published: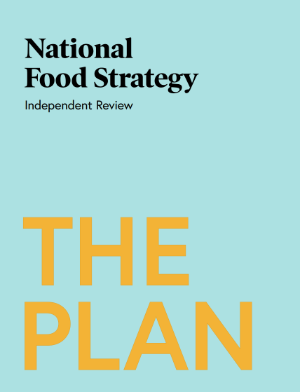 Today, Henry Dimbleby has released his landmark National Food Strategy, an independent review of the UK's food system.
The strategy highlights that historic reform to food system needed to protect the NHS, improve the health of the nation and save our environment.
Poor diet currently contributes to an estimated 64,000 deaths every year in England

National Food Strategy calls Covid 19 a "painful reality check" that is an opportunity to transform our food system to save lives

Calls for landmark Sugar and Salt Reformulation Tax, expansion of Free School Meals and major overhaul of food education as part of once-in-a-generation opportunity to rethink our diets and food production
Recommendations are intended to meet four key objectives:
Escape the Junk Food Cycle and protect the NHS

Reduce diet-related inequality

Make the best use of our land

Create a long-term shift in our food culture
The food system of the future must meet these goals:
make us well instead of sick

be resilient enough to withstand global shocks

help to restore nature and halt climate change so that we hand on a healthier planet to our children

nourish our souls as well as our bodies

meet the standards the public expect, particularly on animal welfare
View the media coverage here
Graham MacGregor, Professor of Cardiovascular Medicine at Queen Mary University of London and Chairman of Action on Salt says: "If ever there was an opportunity to finally transform our food system to save lives – this is it – especially the call for a landmark Salt Reformulation Tax which will make the UK the first country in the world to have a mandatory salt levy.
Not only will the tax incentivise further innovation and reformulation, such as the use of potassium chloride – which is less harmful to health than conventional salt, it will build a better food system for a healthier nation. Previous attempts by the government to encourage voluntary reformulation have failed which is why more fiscal measures are urgently needed to address the country's shocking health inequalities. The question is, are food manufacturers willing to make their food healthier by reformulating?"
Dr Kawther Hashem, Campaign Lead at Action on Sugar says: "Without doubt, a landmark Sugar Reformulation Tax would fix the current issues seen with the voluntary sugar reduction programme. The last progress report showed how far we are from meeting the 20% reduction with only a minuscule 3% reduction.
This can be compared with the Soft Drinks Industry Levy which has seen a whopping 35% reduction in sugar within just four years. This demonstrates the power of government to help save the NHS by reducing the risk of obesity and type 2 diabetes. Never has this sugar tax been so vital."