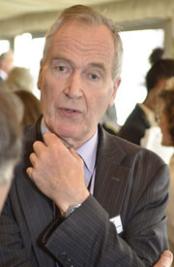 Graham MacGregor CBE - Chairman and Professor of Cardiovascular Medicine
Phone: 0207 882 6217 Mobile: 07946 405617 Email: g.macgregor@qmul.ac.uk

Graham MacGregor is Professor of Cardiovascular Medicine at the Wolfson Institute of Preventive Medicine (Barts and The London) and Honorary Consultant Physician at St George's Hospital, London. Professor MacGregor set up Action on Salt in 1996 and WASH in 2005 and is chairman for both. He is also chairman of Blood Pressure UK, sits on the board for the World Hypertension League and recently served as President of The British Hypertension Society.

Professor MacGregor's research work has focused on the mechanisms underlying the rise in blood pressure in hypertension, the importance of the renin-angiotensin system, and the influence of salt and potassium intake on health. Professor MacGregor has authored many scientific articles on various aspects of blood pressure and cardiovascular medicine.
Katharine Jenner (RNutr) - Campaign Director
Phone: 0207 882 6018 Email: k.jenner@qmul.ac.uk

Katharine studied for a BSc in Biological Sciences at the University of Exeter, initially following a career path in communications. Having obtained a MSc in Public Health Nutrition at the University of Southampton, Katharine has been working on, and is now responsible for the running of, the salt reduction campaigns at Action on Salt and WASH since 2007.
Katharine is also a visiting lecturer on nutrition at several UK Universities and delivers healthy eating sessions for people living with HIV. Katharine is Chair of the Campaign for Better Hospital Food, and Chief Executive of our sister charity, Blood Pressure UK.
Sonia Pombo - Campaign Manager
Phone: 0207 882 5941 Email: s.pombo@qmul.ac.uk
Sonia studied for a BSc in Molecular Medicine at the University of Sussex before completing a Masters in Nutrition at Kings College London. Since graduating, Sonia has worked for Leatherhead Food Research as a Senior Nutritionist within the Nutrition Research Department, assessing the health benefits of food products through intervention studies, and providing nutritional advice to the food industry. Sonia is now responsible for managing salt reduction campaigns at Action on Salt, including annual Salt Awareness Week, and the award-winning health app FoodSwitch.
Mhairi Brown (ANutr) - Nutritionist
Phone: 0207 882 5941 Email: mhairi.brown@qmul.ac.uk
Mhairi studied for a BSc in Chemistry with Environmental and Sustainable Chemistry at the University of Edinburgh before completing a Masters in International Public Health Nutrition at the University of Westminster. Since graduating, Mhairi has worked in the Registration team at the Association for Nutrition.
Mhairi now works on salt reduction projects within the team, including regular project surveys and our annual Salt Awareness Week campaign, as well as leading on World Action on Salt and Health activities.
Zoe Davies (ANutr) - Assistant Nutritionist
Phone: 0207 882 5941 Email: z.davies@qmul.ac.uk
Zoe studied for a BSc in Nutrition, Health and Lifestyles at Sheffield Hallam University. Since graduating, Zoe has worked in health promotion with those with Type 2 diabetes, weight management and ran type 2 diabetes prevention classes with the National Diabetes Prevention Programme. Zoe works on the FoodSwitch app, keeping the database up to date, as well as supporting the team with salt surveys and the annual salt awareness week.