Public Concern About Salt
The Food Standards Agency (FSA) conducts a tracking survey with consumers twice per year to monitor changes in consumer attitudes towards food-related issues. A representative sample of the population (around 2,000 people) are interviewed throughout England, Wales and Northern Ireland.
The survey covers several areas, including awareness of food hygiene standards, confidence in food labelling and concern about sugar and salt levels in food. Concern about the amount of salt in food has been decreasing since May 2017, with the November 2018 survey finding the lowest levels of concern to date (40% of respondents). Many food-related public health messages have focused on sugar in recent years and this, coupled with the loss of momentum with salt reduction in the UK due to expiry of the salt targets at the end of 2017, may be contributing to this falling consumer concern about salt.
This is reflected in the graph below, which shows the number of respondents who stated that they were concerned about salt levels in food: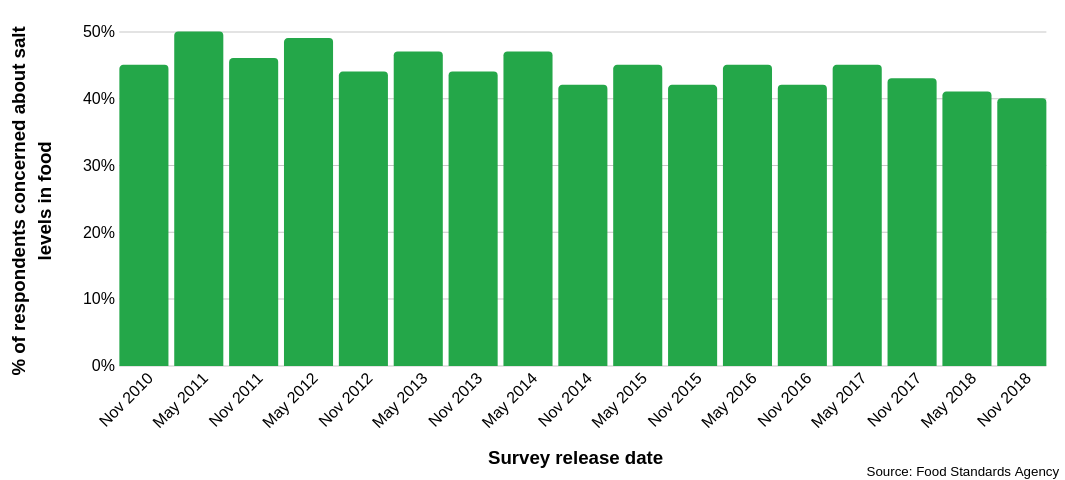 Please click here to view the FSA's Biannual Public Attitudes Tracker