Main Sources of Salt in the UK Diet
The majority of salt in the diet comes from sodium naturally present in foods or from salt added to foods in the production processes, according to data from the National Diet and Nutrition Survey1. The chart below shows the main contributors to salt in the adult diet: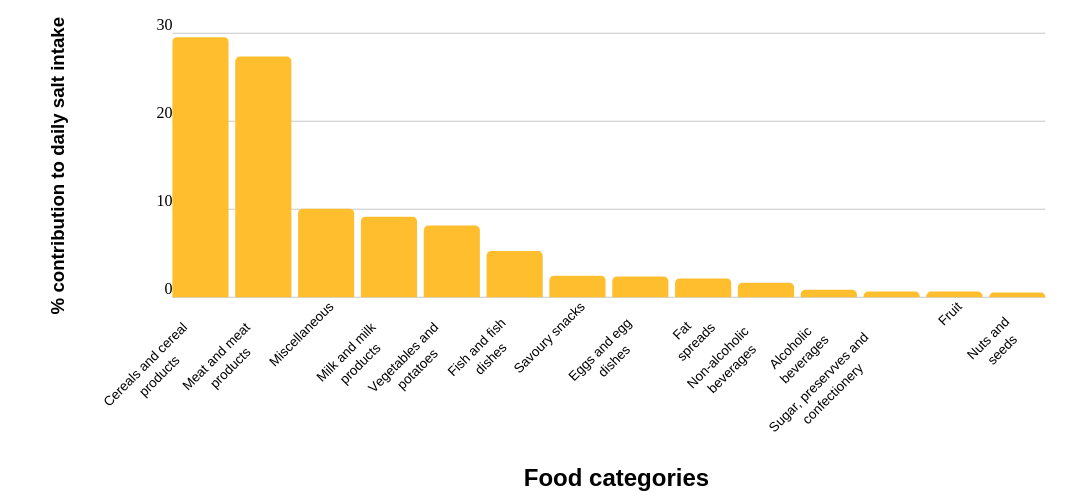 Salt added to foods by individuals during cooking or when eating (discretionary salt) is contributes approximately 15-20% to dietary salt intake2,3.
Based on NDNS data and using the assumption that 18% of total salt intake comes from salt the individual adds to food, Public Health England calculated that for the remaining 82% of salt intake, around 21% comes from sodium naturally present in foods, and about 61% from salt added to processed foods4.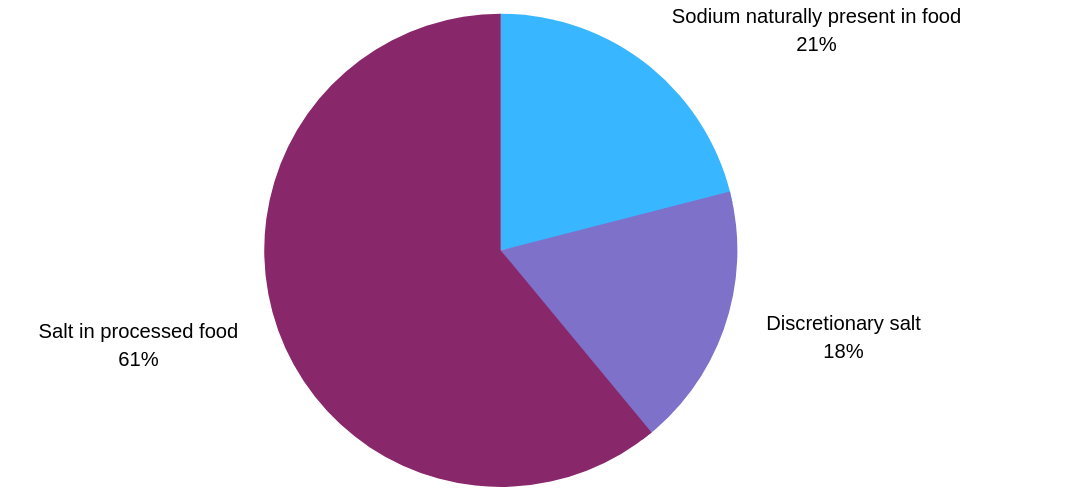 Of that 61%, 54% comes from foods for which 2017 targets were set and around 7% comes from foods not included in salt target categories. It was found that of the foods which had salt targets set, the following food categories account for three quarters of the salt that these categories contribute to daily salt intake4:
Public Health England. NDNS: assessment of dietary sodium in adults in England, 2014. 2016 [Available here: gov.uk/government/statistics/national-diet-and-nutritionsurvey-assessment-of-dietary-sodium-in-adults-in-england-2014
He FJ, Brinsden HC, MacGregor GA. Salt reduction in the United Kingdom: a successful experiment in public health. Journal of human hypertension. 2014;28(6):345-52
Wyness LA, Butriss JL, Stanner SA. Reducing the population's sodium intake: the UK Food Standards Agency's salt reduction programme. Public health nutrition. 2012;15(2):254- 61
Public Health England. Salt targets 2017: Progress report. 2018 (Available here: https://assets.publishing.service.gov.uk/government/uploads/system/uploads/attachment_data/file/765571/Salt_targets_2017_progress_report.pdf)
Graphs made using Canva