Please don't turn vegan food into junk food
Published:
Katharine Jenner of Action on Salt and Sugar talks about the emerging problem of plant-based junk food posing as the healthy choice
It wasn't long ago that, for many, going vegan seemed both limiting and difficult. While their carnivorous and vegetarian friends were spoiled for choice with supermarket shelves full of indulgent snacks and pre-prepared meals, plus no end of options at restaurants, takeaways and cafes, the most exciting things vegans could buy ready-made were falafel and hummus.
Now, as the ethical advantages of going vegan become better known and accepted, in terms of both animal welfare and environmental sustainability, food companies have seized a new sales opportunity – pre-prepared plant-based foods. Those same supermarket shelves and menus are suddenly filling up with vegan-friendly choices. Should vegans rejoice?
With intense marketing and media coverage now reaching far beyond those who buy them for purely ethical reasons – a shift reflected in the use of the term 'plant-based'. So, let's put the ethics aside for a moment and focus on the health aspects of this emerging food category.
On returning home from the market with her father the other day, my four-year-old delightedly announced that she and her little sister had each eaten a doughnut. After delivering my Paddington Bear Hard Stare™, my partner pleaded in his defence, "they were vegan, I thought that would be OK!"
I am not a vegan, but I am a nutritionist and my partner knows doughnuts are not on our (theoretical) list of 'approved' children's foods, and I'm pretty sure he knows that regular doughnuts aren't made of beef. Which begs the question: why would a vegan doughnut be OK when a regular doughnut wouldn't? They're still full of sugar which rot our kids' teeth, deep fried in oil that will line their arteries, and full of salt that will raise their blood pressure. Of course, because they were vegan, he simply thought they were healthier.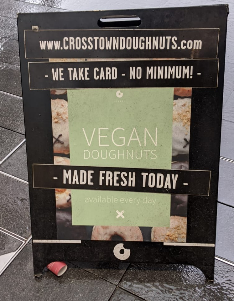 No disrespect to the makers of vegan doughnuts. If you're going to make doughtnuts, they may as well be vegan, then everyone can enjoy them!
Firstly, let's take a moment to celebrate the fact that vegans can now enjoy a doughnut or a nice meal out almost as readily as anyone else. This is a massive step forward for the vegan movement and for anyone who wants to make more ethical choices more easily. Secondly, isn't it interesting that the word vegan has connotations of 'healthy' even when it's applied to a doughnut? This is commonly known as a 'health halo', whereby you overestimate the healthfulness of an item based on a single claim.
My partner is not the only one to make this link. A recent public opinion poll from research group Action on Salt showed that one in three people who buy plant-based products do so because they believe them to be healthier than their meat or vegetarian alternatives, compared to only one in four who choose them for environmental reasons[1].
The food industry, particularly fast food, restaurant and café chains, has capitalised on this word-association by creating a new category of ultra-processed, ready-made products and meals loaded with salt, saturated fat and sugar. These products are often not even created by a chef in a kitchen, but by a technologist in a lab. By any other definition they would be called, junk food, but because of their 'vegan' or 'plant-based' label, they have a health halo hovering right above them.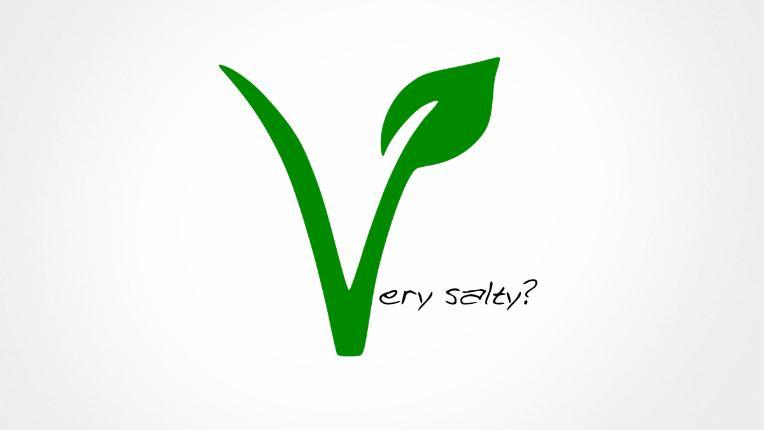 To take a look at just how healthy or not these manufactured foods really are, Action on Salt carried out the largest survey to date of plant-based foods in restaurants, cafes and takeaways in the UK. Have a look at the findings – they knock that halo clean off. A vegan burger can contain as much salt as three Big Macs, and a vegan pizza can contain a day and a half's worth of salt – salt being a major cause of high blood pressure, heart attacks and strokes[2].
Yes, vegan food can be and often is healthy – whether you choose it as part of a purely vegan diet, or part of a flexitarian or omnivorous diet. A healthy plant-based diet should consist of, well, plants. That means whole foods which are cooked from scratch (or for those who want to buy ready-made products to make life a bit easier). It also means carefully-developed products which don't rely on the usual unhealthy cheats of salt, saturated fat and sugar. This is perfectly achievable, it's also necessary.
Last year, EAT Lancet published an in-depth scientific report showing that a more plant-based diet is the only viable option to tackle poor nutrition and related diseases and, at the same time, mitigating the environmental disaster that is our current food production system. If food manufacturers and restaurants update their product ranges to include more plant-based and vegan foods and fewer intensely-farmed animal products, this would go a long way to improving population and environmental health. The growing popularity of vegan foods presents an unmissable opportunity – but it must NOT be used as another junk food opportunity.
I fully support and commend the food industry in creating more plant-based and vegan food and urge them to make even more. It could be just what the planet needs during this nature and climate emergency.
--
END
--
Katharine Jenner is a Public Health Nutritionist and the Campaign Director of the award-winning salt reduction charity Action on Salt (CASH), its international arm World Action on Salt and Health (WASH) and Action on Sugar, which aims to reduce unnecessary sugars in the population's diet. She also runs the only charity dedicated to lowering the nation's blood pressure, Blood Pressure UK and is a Lecturer in Public Health Nutrition at Queen Mary University of London. Katharine worked as a media strategist for several years and as such is very interested in developing innovative approaches to communicating public health. Katharine is a Sustain: the alliance for better food and farming Trustee.
[1] Public Opinion Survey
Action on Salt commissioned Censuswide to conduct an opinion survey in a nationally representative and random sample of 2,022 respondents aged 16+ in the UK between 15.01.2020 - 17.01.2020. Censuswide abide by and employ members of the Market Research Society which is based on the ESOMAR principles.
[2] He FJ, Tan M, Ma Y, MacGregor GA. Salt Reduction to Prevent Hypertension and Cardiovascular Disease. J Am Coll Cardiol. 2020 Feb, 75 (6) 632-647.