Salt Awareness Week 2021 Blogs
Our latest blogs for Salt Awareness Week cover how to get more flavour and less salt into our food, what is and why do we need potassium, and a blog on our NEW survey.
The salty truth behind some 'healthy' snacks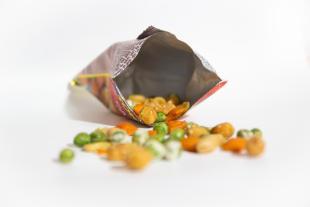 To snack or not to snack - That is the question (sort of).
When looking for healthier alternatives to crisps or flavoured nuts (which isn't just fruit or a vegetable crudité!) we may turn to healthier sounding alternatives such as dried chickpeas or lentil 'crisps'. This Salt Awareness Week, we have looked at the salt content of these snacks because whilst they tend to be lower in fat and higher in fibre - which of course is great - what's the ingredient we always forget about?... read more here
Salt Reduction Saves Lives – So Why Is It Being Pushed Aside?
It's been several years since Sid, a large cartoon slug created by the Food Standards Agency (FSA), delivered his hard hitting, yet necessary, message across TV, radio and billboards - too much salt is bad for your heart. The slug proved to be very effective, with a big increase in the number of consumers trying to cut down on salt and using food labelling to check salt levels in food. Behind the scenes, the FSA accompanied... read more here
'Falta o sal' – my mum's go to comment whenever I cooked her a meal. 'It needs more salt'
When I started working at Action on Salt, I became immediately aware how much salt I had unknowingly been eating, and the damage it would potentially do to my health. I say unknowingly, because, well, it's just that. There were no visible side effects and as I was in my 20's my blood pressure was 'normal'. But the damage it can do to us is silent slowly but surely raising... read more here
Potassium - what is it and why do we need it?
You might have heard the myth that eating too many bananas can give you a potassium overload. But in reality, you'd need hundreds of bananas for this to happen! So what is potassium and how much do we actually need? Potassium is an essential nutrient for our bodies to function, particularly for the functioning of cells in muscles and nerves. The balance of potassium in the body is very specific. So when we eat potassium in the diet...read more here