Salt and your health 2010
New research published by CASH as part of Salt Awareness Week showed that whilst as many as 9 out of 10 people in the UK know salt can damage their health, very few have any idea how. For instance only 34% are aware it can lead to stroke, and 61% heart disease. Even less people are aware salt is linked to conditions such as osteoporosis (4%), stomach cancer (6%), obesity (13%), kidney stones and kidney disease (27%), which can affect anyone.
Click here for the press release

AS part of Salt Awareness Week 2010, CASH worked with a number of other health charities. Together, we aimed to highlight to the public the risks involved with a high salt diet and the importance of looking at labels to ensure high salt foods are not consumed.
We were supported by: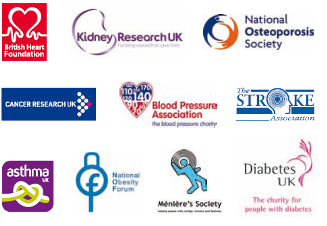 Some of the UK's celebrities also lent their voices to the campaign:

Anne Diamond - Journalist and health campaigner
"We should all be more aware of what's in our food – and taking unnecessary salt out of it is the first step to health. We should all take personal responsibility by voting with our shopping bags – in other words, look at the label and don't buy anything with too much salt! And, as well as that, we should put as much pressure as we can on the food industry to cut right back!"
Anthony Worrall Thompson - Chef
"I am pleased that the wide range of health problems contributed to by a high salt diet are being highlighted in the forthcoming National Salt Awareness Week. I fully support the event and urge the food industry to think about how much salt they add to our food"