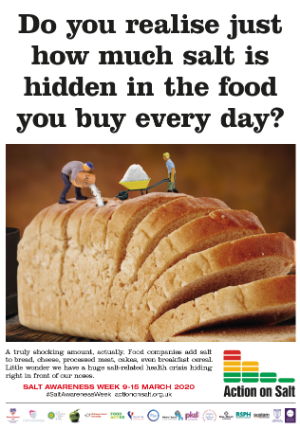 Are you getting involved in Salt Awareness Week 2020? We have plenty of resources for you to download and use!
Poster
Click on the link to download and use our poster: SAW Poster 2020 PDF [PDF 2,432KB]
Education Resources
Learning about the harmful effects of a high salt diet is important if we are to see our daily intake fall. What better place to teach this than in schools? Giving young people the information they need about salt, practical advice on cooking without salt, as well as teaching them about how to shop healthily, is an important step to reducing cardiovascular disease and many other chronic illnesses later in life.
A lesson on salt will fit in anywhere where healthy eating or diet is taught, whether it be in PSHE, PE, Food Technology, Science or in an assembly.
Click here to view our Education Resources
There are a number of simple ways that you can reduce your salt intake. Choosing to add different flavours, including citrus and garlic, instead of salt while cooking, learning how to read labels and understanding which foods are high in salt can help you lower your salt intake while you're eating at home and when you're eating out.
Many of us have developed a preference for salty flavours due to years of eating manufactured foods with a high salt content as well as the use of salt as seasoning. Initially when you reduce your salt intake foods tend to taste bland, but after two or three weeks you will start to taste the real and delicious flavour of natural food. Give yourself time to adjust. In the tips for eating at home, you'll find alternative ways of adding flavour to your food.
Browse our hints, tips and recipes on the left to find out how to lower your salt intake.
Social Media
To use the images below, please right click and choose 'Save As'