1st February 2010 (Salt Awareness Week 2010)
Brits know eating salt is dangerous for them, but don't know why
People don't know eating less salt reduces our risk of stroke and heart failure, and are even less aware salt is linked to stomach cancer and osteoporosis
Those most at risk of the conditions appear to know the least
1st February 2010 New research published today [Ref.1] by Consensus Action on Salt and Health (CASH) shows that whilst as many as 9 out of 10 people in the UK know salt can damage their health, very few have any idea how. For instance only 34% are aware it can lead to stroke, and 61% heart disease. Even less people are aware salt is linked to conditions such as osteoporosis (4%), stomach cancer (6%), obesity (13%), kidney stones and kidney disease (27%), which can affect anyone.
To mark National Salt Awareness Week 2010, CASH worked with independent researchers TNS in December 2009 to find out if people were aware of the damage salt could do to their health [Ref.2]. There is overwhelming evidence that eating too much salt can lead to high blood pressure, however whilst over two-thirds (69%) of us are aware that a high salt diet is linked to high blood pressure, only one-third (34%) realise salt is associated with stroke. High blood pressure is the major cause of stroke and a major factor in heart disease, responsible for more than 60% of strokes, and almost half of all heart disease [Ref.3], the leading causes of death worldwide.
Young adults are even less likely to be aware that salt can damage their health, perhaps as they feel it is not relevant to them yet. Blood pressure actually starts to rise from childhood, yet worryingly, only 1 in 5 (18%) young adults aged 16-24 year olds are aware that salt is linked to stroke. Joe Korner, Director of Communications for The Stroke Association said: "Every year in the UK 150,000 people have a stroke. It's essential that people take steps to make sure they know how much salt is in the food they eat and try to cut back on their salt intake."
Mike Rich, Executive Director of UK charity the Blood Pressure Association, said: "Reducing your salt intake is one of the most significant ways in which you can lower your blood pressure, and so reduce your risk of heart attack or stroke. We are convinced that if people had more knowledge of the health problems that they are putting themselves at risk of, by eating too much salt, this would have a real impact on their behaviour. As one in three adults in the UK has high blood pressure, cutting salt intake would seriously benefit the nation's health."
The evidence supporting links between our current high salt diets and the onset of stomach cancer, osteoporosis, obesity and kidney stones and kidney disease has been steadily growing, and now is too compelling to be ignored (Ref.4). However, only 6% of adults link salt with stomach cancer, just one in twenty five know that a high salt intake is associated with osteoporosis (4%), 13% know there is a link between salt and obesity and barely a quarter of us know that it can contribute to kidney diseases (27%).
Kidney Research UK spokesperson said "Right now, the lives of over three million people in the UK are threatened by chronic kidney disease. This survey proves that more awareness around salt intake needs to be done to save lives, thanks to CASH."
Dr David Haslam, Chairman of the National Obesity Forum comments "It is hardly surprising that those people at highest risk because of their underlying obesity, are the least well informed of the risks of salt, saturated fat and other factors. It is encouraging for the future that young people are more aware of the association between salt and obesity, but this study should be seen as a call to action for those adults who are already risking their health by eating a poor diet, displaying a blasé attitude, and behaving irresponsibly with regard to their health."
Although men are more likely to suffer from kidney stones and stomach cancer than women, less than a quarter of men (21%) compared to a third of women (32%) were aware that salt is linked to kidney problems; and only one in 20 men were aware of the link with stomach cancer. Ed Yong, Head of Health Evidence and Information for Cancer Research UK says "Stomach cancer affects thousands of people every year in the UK, yet fewer than one in 10 people know that eating lots of high-salt foods can increase their risk of this disease."
Also surprising, is that differences in knowledge are observed across the UK population. For instance, people in Wales are nearly 10% less likely to be aware that salt can lead to health problems than those in Scotland. People in the North West of England are nearly 10% more likely to be aware salt can damage their health than their neighbours in the North East. Social inequalities are also evident; people from lower socio-economic groups are over twice as likely not to know how salt can damage their health as those in higher socio-economic groups (16% vs. 7%).
Katharine Jenner, Nutritionist and CASH Campaign Manager says "it is not surprising people are reluctant to reduce salt in their diets when they think eating too much salt will not affect them, however the problems of eating the current high amount of salt could affect anyone. Approximately 75-80% of the salt we eat is hidden in everyday foods such as bread, meat products, breakfast cereals and other processed foods making it hard for us to cut our intake. To reduce your salt intake, try to read the product labels and choose the lower salt options, also try using lower salt ingredients and not adding salt during cooking or at the table, and avoid salty meals when eating out."
Professor Graham MacGregor, Barts and The London School of Medicine and Dentistry, and Chairman of CASH comments, "The unnecessarily high amount of salt we eat leads to stroke and heart disease, and there is increasing evidence that salt intake is linked to stomach cancer, osteoporosis, obesity and kidney stones and kidney disease. The food industry is responsible for our current high salt intake; it is imperative that they make larger reductions in the amount of unnecessary salt that they add to their products immediately, this is vital if we are to reduce our salt intake to the maximum recommended target of 6 grams a day or less, from the current 8.6 grams a day (Ref.5). This could make a big difference to yours, or your children's future health."
CASH is using National Salt Awareness Week 2010 to raise awareness of the dangers of a high salt diet, and is working with a number of UK charities such as The Stroke Association, National Osteoporosis Society, Cancer Research UK and Kidney Research UK to take the message across the country, along with some high profile supporters:
Anne Diamond (Journalist and health campaigner) "We should all be more aware of what's in our food – and taking unnecessary salt out of it is the first step to health. We should all take personal responsibility by voting with our shopping bags – in other words, look at the label and don't buy anything with too much salt! And, as well as that, we should put as much pressure as we can on the food industry to cut right back!"
Anthony Worrall Thompson (Chef) "I am pleased that the wide range of health problems contributed to by a high salt diet is being highlighted in the forthcoming National Salt Awareness Week. I fully support the event and urge the food industry to think about how much salt they add to our food"
Senior Cardiac Nurse for the British Heart Foundation (BHF) June Davison said "With February being National Heart Month there's never been a better time to think about your heart health. It is well established that high intakes of salt over time are linked to raised blood pressure which is a risk factor for coronary heart disease and stroke. It's important to be vigilant when shopping for food and to use the information provided on food labels to make healthier, lower salt choices as well as avoiding adding salt to home cooked food."
-ends-
For more information or an interview, please contact:
• Professor Graham MacGregor on: 07946 405617 / 020 7882 6217, g.macgregor@qmul.ac.uk
• Katharine Jenner on; 07740 553298 / 020 7882 6018, k.jenner@qmul.ac.uk
• Hannah Brinsden on: 020 7882 5941, h.brinsden@qmul.ac.uk
Notes to Editors and References:
Ref 1: The summary of results can be found on the following pages. If they are missing, or require the full survey data, please contact Katharine or Hannah on the numbers above.
Ref 2: The research for CASH was carried out face to face by TNS in December 2009 amongst a nationally representative sample of 2,063 UK adults aged 16+.
Ref 3: World Health Report 2002: Reducing risks, promoting healthy life. World Health Organisation, 2002.
Ref 5: The current average salt intake of the UK population is 8.6g a day (Source. Food Standards Agency)
Graph 1 - Q1. Do you think eating too much salt could damage your health? 'Yes' by age and gender
Graph 2 - Q2. Which, if any, of the following health conditions is linked to eating too much salt? All conditions by gender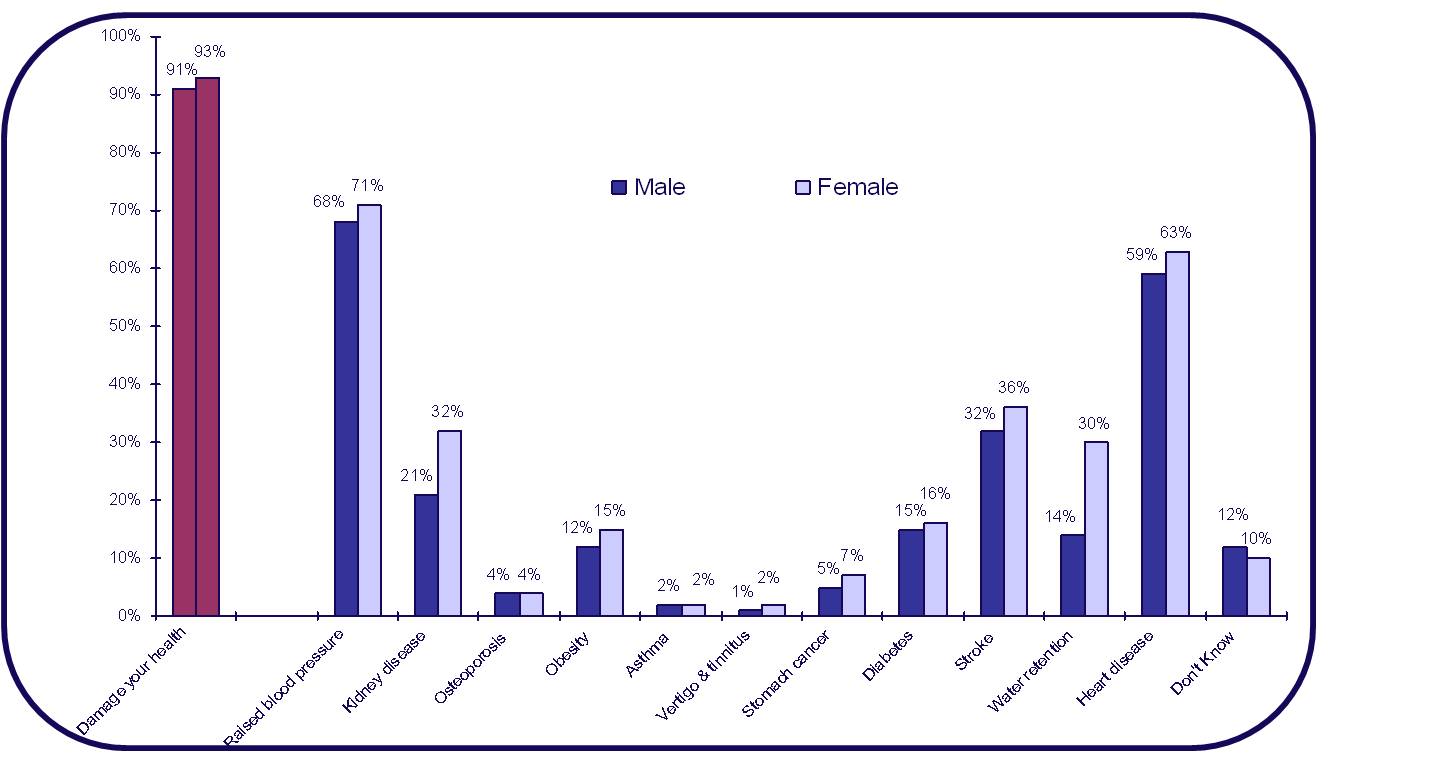 For Media Coverage: Media coverage for Public Opinion Survey - Salt Awareness Week