26th August 2010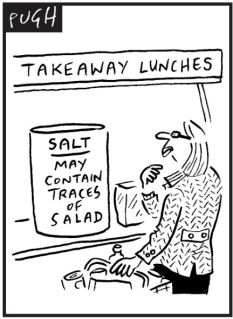 For Media Coverage: Salads Media Coverage 2010
Click here for all data - Salad Survey 2010 – Highest and lowest tables [DOC 89KB] orSalads and Pasta Bowls 2010 - Full Data [DOC 377KB]
Press Release [DOC 38KB]
*use the tabs to navigate between full data sheet and each category
FEELING BLOATED AFTER A SALAD LUNCH? HIDDEN SALT MAY BE TO BLAME.

OPTING FOR A SALAD FOR LUNCH COULD RESULT IN YOU UNKNOWINGLY CONSUMING OVER HALF YOUR MAXIMUM RECOMMENDED DAILY SALT INTAKE AND CAUSING THAT BLOATED FEELING

A survey of 270 salad and pasta bowls from supermarkets, high street cafes and fast food chains found that whilst we should eat less than 6 grams of salt a day, a salad can unexpectedly give you more than half of your daily maximum intake. The new research, carried out by Consensus Action on Salt and Health (CASH), has found surprisingly high levels of salt hidden in salads [Ref 1] with one in ten salads containing more salt than a Big Mac [Ref 2].
The worst offender, a Spicy Crayfish Noodle salad from EAT., contains a massive 3.51g of salt per portion which is over 17 times saltier than a Pret No Bread Tricolore with Balsamic Dressing which contains just 0.2g salt per portion.
The 5 saltiest high street café/fast food salads are:
EAT Spicy Crayfish Noodles (3.51g salt per portion)
Pret Super (Duper) Humous Salad with French Dressing (3.2g salt per portion)
KFC Zinger Salad with Caesar Dressing or Low Fat Vinaigrette Dressing (3.1g salt per portion)
KFC Original Recipe Chicken Salad with Caesar dressing or low fat vinaigrette dressing (2.9g salt per portion)
McDonalds Crispy Chicken and Bacon Salad with Low Fat Caesar Salad Dressing or Low Fat Balsamic Dressing (2.6g salt per serving)
Out of the supermarket salad and pasta bowls, surprisingly Marks & Spencer had 7 of the 10 saltiest salads. The highest was the 'Taste of Asia' salad with 2.83g of salt per portion; nearly as much salt as 6 packets of crisps [Ref 3].
The 5 saltiest supermarket salads are:
Marks & Spencer A Taste of Asia (2.83g salt per 258g portion)
Marks & Spencer Pasta with British Chicken, Bacon and Sweetcorn (2.65g salt per 380g portion)
Marks & Spencer Avocado and Feta (2.40g salt per 320g portion)
Tesco Prawn Layered Salad (2.3g salt per 380g portion)
Waitrose Special Edition King Prawn Thai Rice Salad (2.25g salt per 230g portion)
CASH were pleased to see that the 'healthy' branded ranges of salads tended to be slightly lower in salt. For example the Sainsbury's Be Good To Yourself Orzo Sunbaked Tomato Salad, which came out as the lowest supermarket salad, contained only 0.26g of salt per 270g portion. However, only 22% (10 out of 46) of those branded as 'healthy' would get a 'green' (low) traffic light label and there were still some high examples such as the M&S Eatwell Tuna with 3 Bean salad, potatoes and red peppers, which contains over a third of the maximum daily salt recommendation at 2.13g of salt per 355g portion.
"Many women choose salad as a healthy and convenient lunch, particularly when watching their waistline" says Katharine Jenner, CASH Campaign Manager. "Rather than feeling healthy however, they often feel bloated and sluggish, symptoms of 'water retention', which can be caused by the hidden salt in these salads. In the long term the health problems are more serious as salt intake is linked to osteoporosis and high blood pressure. Given the healthy image of salads it's surprising to find that they contain such high levels of unnecessary salt."
It is not always easy to find out how much salt is in your salad; none of the high street cafes or fast food chains had salt per portion available on the front of the pack and the differences between products in the same restaurant can be huge. For instance, a Pret Super (Duper) Humous Salad with French Dressing contains over half your daily maximum at 3.2g salt a portion, which is 16 times more than a Pret No Bread Tricolore with Balsamic Dressing, one of the lowest salt products available, which contains just 0.2g salt per portion.
Comparing this research to 2005 data [Ref 4] has revealed that some progress in salt reduction has been made in the last 5 years, particularly by the supermarkets who have also greatly improved the quality of their labelling. The average salt content in supermarket salads has been reduced by nearly a quarter (23%) from 1.64g/portion in 2005 to 1.26g/portion in 2010. Some individual products have had notable reductions, for example a Honey and Mustard Chicken Pasta Salad from Boots contained 1.50g salt per 275g portion in 2005 and less than half as much in 2010 with only 0.7g salt per 224g portion.
"It is absurd that only 6 salads contain less salt than a packet of crisps." says Professor Graham MacGregor of the Wolfson Institute of Preventive Medicine and Chairman of CASH. "Clearly the manufacturers still have a long way to go if we are to reduce our salt intake to 6g a day and save the maximum number of lives. Every gram of salt removed from our diet is estimated to prevent 6,000 deaths from heart attacks, heart disease and strokes per year, creating potential healthcare savings of £1.5billion per year [Ref 5]."
"Massive variations in the salt content of salads can be seen and salt can be hidden in the dressings, emphasising the importance of checking product labels when buying salads and pasta bowls" says CASH Nutritionist Hannah Brinsden. "Better still, to help beat the feeling of bloating after lunch try making your own salads at home using low salt ingredients such as chicken, tuna, vegetables and pulses."
Top tips to help beat the bloat:
Avoid salty ingredients such as ham, bacon and cheese, swapping them for chicken, tuna or vegetables instead
Don't use the whole pot of dressing provided with a ready-made salad
Olive oil, lemon juice, pepper, balsamic vinegar and herbs can all make a salad taste great without the need for salty dressings and sauces
Make sure you read the labels carefully and check the recommended portion sizes
For a more filling salad try one based around pasta or mixed beans
Joe Korner, Director of Communications for The Stroke Association comments:"Each year an estimated 150,000 people in the UK will suffer a stroke. High blood pressure is the single biggest risk factor for stroke and eating too much salt on a regular basis contributes to this. These worrying figures from C.A.S.H show that more needs to be done to reduce the amount of salt that is hidden in food products".
Click here to see the British Heart Foundation's response to this survey
Go to Welcome to Consensus Action on Salt and Health for more information or contact:
Table - Simple swaps at your favourite lunch outlet
| | | | | |
| --- | --- | --- | --- | --- |
| High product | Salt content / portion(g) | Low alternative product | Salt content / portion(g) | Difference (g) |
| ASDA Chicken and Bacon Caesar Pasta (240g) | 1.9 | ASDA Tomato and Chicken Pasta (270g) | 0.5 | 1.4 |
| Boots Delicious... Chicken Fajita Pasta salad (271g) | 1.4 | Boots Delicious... Honey and Mustard Chicken Pasta Salad (224g) | 0.7 | 0.70 |
| Cafe Nero Tuna and Cannellini Bean Salad (256g) | 1.6 | Cafe Nero Chicken and Orzo Pasta Salad (228g) | 0.5 | 1.10 |
| EAT Spicy Crayfish Noodles | 3.51 | EAT Superfood (with Dressing) | 0.6025 | 2.91 |
| Marks and Spencers A Taste of... Asia. Lochmuir Smoked Salmon Rice Salad. Asian Style Vegetables Salad. Edamame Soya Beans. 2 Cucumber Maki with a Soy and Lime Dressing (258g) | 2.83 | Marks and Spencer Simply Fuller Longer King Prawns with Mixed Rice and lentils and a Sweet Chilli and Coriander Dressing (230g) | 0.80 | 2.03 |
| McDonalds Crispy Chicken and Bacon Salad (with Low fat Caesar Salad Dressing) | 2.6 | McDonalds Grilled Chicken Salad (with Low Fat Balsamic dressing) | 1.7 | 0.9 |
| Pret A Manger Super (Duper) Houmous Salad (with Dressing) | 3.2 | Pret A Manger No Bread Tricolore | 0.2 | 3.00 |
| Sainsbury's Greek Tabouleh Salad (277g) | 1.59 | Sainsbury's Be Good To Yourself Orzo Sunbaked Tomato Salad | 0.26 | 1.33 |
| Subway Sweet Onion Teriyaki (with Sweet Onion Sauce) (434g) | 2.1 | Subway Chicken Breast (with Honey Mustard Sauce) | 1.3 | 0.8 |
| Tesco Cheese and Tomato Pasta (300g) | 2 | Tesco Chicken, Tomato and Basil Pasta (350g) | 0.7 | 1.30 |
| The Co-operative Chicken & Bacon Pasta Salad | 1.3 | The Co-operative Healthier Choice Sweet Chilli Chicken Noodle Salad (Limited edition) | 0.6 | 0.70 |
| Waitrose Special Edition King Prawn Thai Rice Salad (230g) | 2.25 | Waitrose Special Edition Poached Salmon Pasta Salad (220g) | 0.91 | 1.34 |
References:
Ref 1 - Survey details:
The survey of 268 salads looked at salad and pasta bowls (incl. noodle, rice, bean and cous cous based salads) designed to be eaten for lunch. Salads sitting alongside sandwiches (plus any others that were clearly intended for lunch) were included. Salads designed as side dishes, sitting along side other antipasti products, were not included.
Product data was collected from product packaging, online and from customer services from the leading supermarkets ASDA, Marks & Spencer, Morrisons, Sainsbury's, Tesco, The Co-operative and Waitrose and the leading high street café and fast food chains Boots, Burger King, Café Nero, Costa, EAT, KFC, McDonalds, Pret A Manger, Starbucks and Subway.
Figures in this release are based on the nutritional information provided and excludes salads 'without dressings' data where dressings are optional (e.g. provided in a pot).
9 products were excluded for giving unrealistic portion sizes (e.g. 55g tablespoon)
10 products available from Morrisons provide no nutritional Information
Traffic light information was calculated by CASH using 100g salt data & may differ to that stated on pack.
The survey was carried out in August 2010. All products mentioned in this release were re-checked between 18th – 20th August.
Ref 2 - A Big Mac contains 2.1g of salt per portion.
Ref 3 - A standard 34.5g packet of Walkers Ready Salted Crisps contains 0.5g of salt.
Ref 4 – CASH conducted a similar study of salads in July 2005
Ref 5 – NICE Prevention of cardiovascular disease at population level: Guidance
http://www.nice.org.uk/nicemedia/live/13024/49273/49273.pdf