NEW Survey Exposes the Salads That Pose a Serious Hidden Threat to Our Health

Some restaurant and fast food salads found to contain more than an entire day's worth of salt
Pizza Express' Grand Chicken Caesar Salad contains more salt than their Classic Margherita Pizza
Action on Salt calls for mandatory colour-coded nutrition labelling in restaurants and fast food outlets, after a NEW survey reveals lack of nutrition information on menus and at the point of sale, despite shockingly high amounts of salt and saturated fat in salads
Click to view survey report: 2018 Salad Survey Report [PDF 2,633KB]
Click to view data for retail salads: Action on Salt 2018 Retail Salads [PDF 672KB]
Click here to view media coverage of our survey

Ready to eat salads could be damaging our health, according to a NEW nationwide product survey1 by Action on Salt. The expert group, based at the Wolfson Institute, Barts & The London, Queen Mary University of London, found that the salt content of salads bought from restaurants, sandwich/coffee shops and fast food outlets has worryingly INCREASED by 13% since they were last surveyed in 2014 (from 1.65g to 1.86g per serving on average2), highlighting a distinct lack of commitment from the food industry to reduce salt.
More than a third (36%) of the 213 restaurant, sandwich/coffee shop and fast food salads surveyed contained a shocking 2g of salt or more per salad. The worst offender was Nandos Mediterranean Salad with Chicken Breast and extra hot sauce, with 6.2g salt - more than an adult's entire DAILY recommended limit of salt3 in just one salad!
Surprisingly, Pizza Express Grand Chicken Caesar Salad with Dough Sticks contains 5.3g salt per serve – more than their Classic Margherita Pizza4 – and McDonald's Grilled Chicken and Bacon Salad with Balsamic Style Dressing contains the same amount of salt as their Cheeseburger5. Even salads deceivingly branded as 'healthy' contain high amounts of salt, such as Benugo's Supercharged Omega Salmon with 3.5g salt, over half of an adult's maximum recommended daily limit.
Although nutrition information was available at the majority (15/21) of the restaurant and fast food chains included in the survey (either on pack, on the shelf label or at the counter on request) only one chain (Costa) provided full colour-coded nutrition information6. Without this information readily available at their disposal, consumers struggle to know which options contain the least amount of salt, making it impossible to make an informed decision. This clearly demonstrates the need for clear consistent nutrition labelling in restaurants and fast food outlets to help customers compare products and make healthier choices.
Action on Salt also surveyed all ready-to-eat salads from retailers, including pasta, rice, couscous, noodle and other grain (e.g. quinoa) salads from the deli and 'food to go' sections. Over the last 4 years, the average salt content of retail salads has remained relatively unchanged7 demonstrating a lack of progress in salt reduction by the food industry. Worryingly, the salt content of some has increased since 2014, including Tesco's Chicken & Bacon Pasta which now contains more than double the amount of salt (from 0.40g per 100g in 2014 to 1.00g per 100g in 2018)8.
Of the 312 retail salads surveyed this year, M&S' Teriyaki Chicken Sticky Rice Salad with a soy and wasabi dressing was the saltiest with a shocking 3.50g per pack, more than half an adult's maximum daily recommended limit. Only 17% of retail salads surveyed were low in salt and would receive a green label on front of pack9.

Such excessive levels of salt are completely unnecessary; healthier salads with much less salt are available, as demonstrated by the large variation in salt per portion between salads within the same category. For example, Morrisons Chicken and Bacon Pasta (2.54g/250g pack) contains over FOUR times more salt than Asda's Spicy Chicken Pasta (0.60g/300g pack).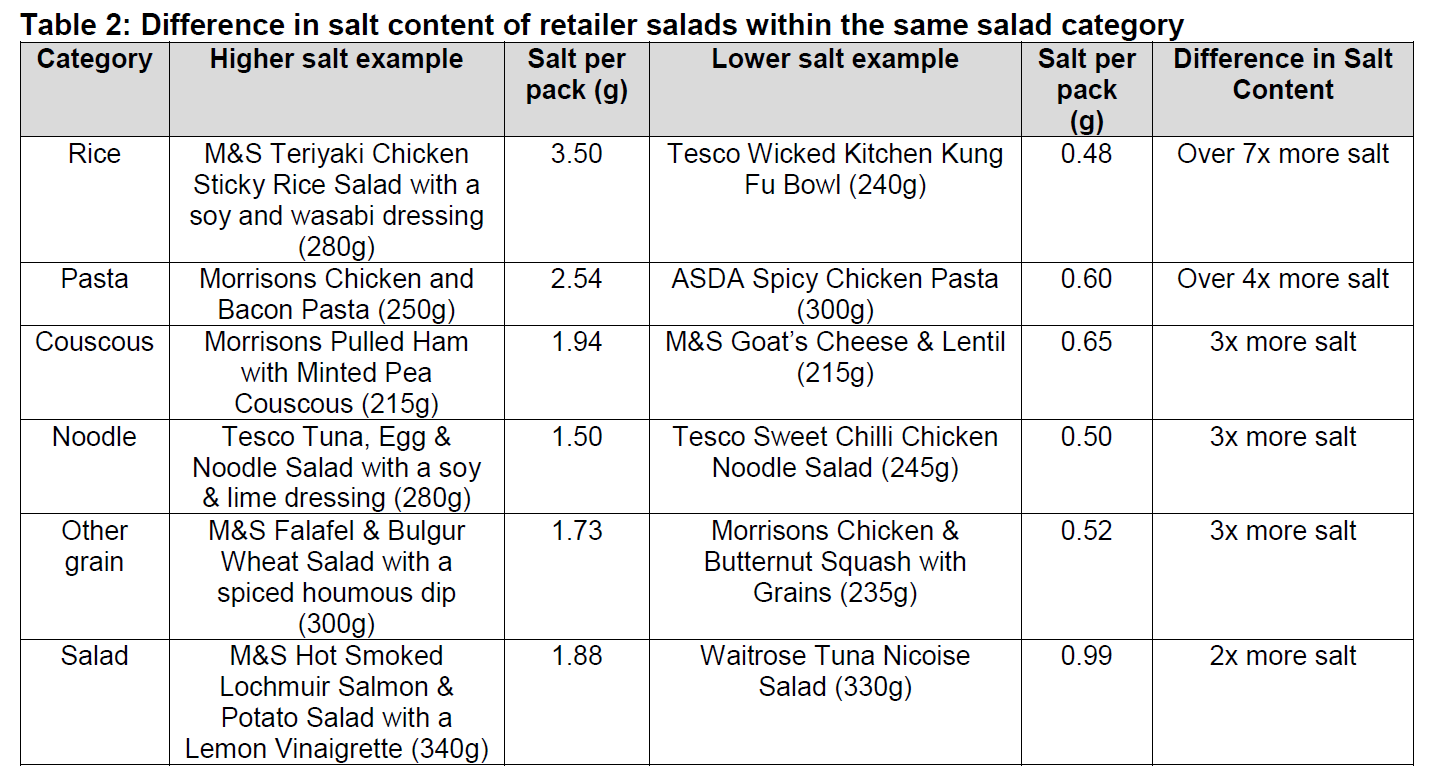 Saturated Fat
In addition to salt, the survey also found salads to contain worrying amounts of saturated fat (saturates), with some containing almost an entire day's worth. Aldi's Just Tasty Cheese Layered Salad, 380g, contains 53.2g fat – more than three quarters of an adult's maximum recommended intake10 - and 16.7g saturates (84% of the maximum recommended intake10). In contrast, Sainsbury's On the Go Cheese & Tomato Pasta, 300g contains 18.6g fat and 4.5g saturates.
Of the restaurant chains, the worst was Zizzi's Arcobaleno 'Rainbow' Salad with Goat's Cheese with 20g of saturated fat11, the entire maximum recommended intake for adults, followed by Pizza Express' Pollo with Dough Sticks with 17.1g saturates12.
Sarah Alderton, Nutritionist at Action on Salt says, "Salads are typically considered to be a healthy option, but restaurants and retailers are continuing to add unnecessarily high amounts of salt and saturated fat to their salads and putting the health of their customers in jeopardy. We want the food industry to be transparent by displaying clear, colour-coded nutrition information on front of pack or at the point of sale, to help consumers make a more informed decision wherever they choose to eat."
Mhairi Brown, Nutritionist at Action on Salt, adds, "Up to 75% of our salt intake comes from salt added to food by manufacturers and this survey demonstrates just how easy it is to unwittingly eat excess salt, with such high amounts added to our go-to 'healthy' choice of salads. This survey highlights the urgent need for Public Health England to reinvigorate the UK's salt reduction strategy"
Graham MacGregor, Professor of Cardiovascular Medicine at Queen Mary University of London and Chairman of Action on Salt, adds, "It's shocking to see that certain restaurants and supermarkets have failed to take responsibility to reduce salt – especially after our 2014 survey exposed their dangerously salty salads. Reducing salt is the most cost-effective measure to reduce the number of people dying or suffering from strokes or heart disease. We are now calling on PHE to take immediate action."
Statement from Abokado: The nutritional information on Abokado's website for the Teriyaki Dressing included incorrect data. In a statement from Abokado this afternoon a spokesperson said: "There is an error in our data. The salt content of The Teriyaki Chicken Rice Salad is 1.67g per serve. The separate (optional) pot of Teriyaki Dressing is 1.15g per 25g pot, making the total salt content 2.82g, if both are consumed together." Abokado has now updated the nutritional content on its website to reflect this correct data. The spokesperson said: "We always strive to give our customers a balanced range of breakfast and lunch options and have treated this matter with the greatest priority"
Top Tips To Ditch the Salt from your salad:
Check the label for salt and use the FoodSwitch app to find the healthier supermarket salads
Avoid salads with salty ingredients (e.g. feta, parmesan, olives, sundried tomatoes, bacon)
Use salad dressing sparingly or better still none at all if it's provided in a pot on the side. Go for ones without dressing where possible. When eating out ask for the dressing on the side so that you can determine how much (or little) to use
Beware of misleading portion sizes - nutrition info 'per serving' may be for ¼ or ½ pot etc and not the whole pack, so check to see if you're eating this amount or more
Make your own! You can control what you put in – choose less salty ingredients like beans, chickpeas, plenty of fresh colourful vegetables, salad leaves, lean meat and unsmoked fish. Add herbs, balsamic vinegar or lemon juice for flavour instead of dressings and sauces like mayo which can be high in fat and salt.
ENDS
National PR – David Clarke: david@rock-pr.com M: 07773 225516
Website: http://www.actiononsalt.org.uk
Twitter: @actiononsalt #LessSalt #6ways6grams
Notes to editors:
About Action on Salt
Action on Salt is a group concerned with salt and its effects on health, supported by 24 expert scientific members. Action on Salt is successfully working to reach a consensus with the food industry and Government over the harmful effects of a high salt diet, and bring about a reduction in the amount of salt in processed foods as well as salt added to cooking, and at the table.
In the early 2000's the UK pioneered a salt reduction strategy with the Food Standards Agency and Action on Salt with the setting of incremental salt targets, so that the food industry was slowly reducing the huge and unnecessary amounts of salt they add to food. This resulted in a fall in UK population salt intake, a fall in average blood pressure and more than 12,000 lives have been saved from preventing strokes and heart disease. However in 2010 responsibility for salt reduction was switched to the Department of Health and the food industry was made responsible for policing itself, a policy that unsurprisingly failed. Further salt reduction targets were set to be achieved by the end of 2017 but little action has been taken to ensure the food industry is meeting these targets. PHE are now responsible for the UK salt reduction programme but so far have done little or nothing. All of the above has meant that the salt reduction programme has been slowed down with the result that many thousands of people have died unnecessarily and huge and unnecessary costs have been incurred by the NHS. Salt is the forgotten killer; the time has come for PHE to allocate sufficient resources to immediately resuscitate the UK salt reduction programme.
References
Survey details


The survey focused on the full range of ready to eat (RTE) salads, including all pasta, rice, noodle, couscous, other grain (e.g. quinoa) and cheese, meat, fish and vegetable-based (excludes all plain and those named as 'side' salads, potato salads, coleslaw, beetroot and those intended to be a side accompaniment/not eaten on their own). Data collection as of: w/c 2nd April 2018.

Retail salads: all salads in the food to go section plus those in the deli section that would be eaten for lunch/on the go were included. Data was collected in-store from Aldi, Asda, Boots, Iceland, Lidl, M&S, Morrisons, Sainsbury's, Tesco, The Co-operative, Waitrose using the FoodSwitch Data Collector App.

OOH Salads: all takeout salads from cafes, fast food outlets and restaurants were included. Data was collected online or by contacting customer services from Abokado, ASK Italian, Benugo, EAT, Starbucks, Costa, Pret a Manger, Pizza Express, Caffe Nero, POD, Itsu, Yo! Sushi, LEON, McDonalds, Nandos, Burger King, KFC, Subway, Wagamama, Greggs and Zizzi. Some nutrition information for OOH was unavailable or not included owing to incorrect/missing information online. See data table for more details.

All salads with nutrition information available online were included in Action on Salt's 2014 salad survey, from restaurants, cafes and fast food restaurants, totalling 137 salads. The average salt content of out of home (OOH) salads in 2014 was 1.65g per portion http://www.actiononsalt.org.uk/news/surveys/2014/salads/#d.en.487222. The average salt content of the 213 OOH salads surveyed in 2018 was 1.86g per portion
Maximum recommended daily salt intakes for adults and children https://www.nhs.uk/Livewell/Goodfood/Pages/salt.aspx
Pizza Express Classic Margherita Pizza has 3.9g of salt per serving https://www.pizzaexpress.com/help-and-contact/where-can-i-find-calorie-information-for-your-menu
McDonald's Cheeseburger has 1.6g of salt per portion https://www.mcdonalds.com/gb/en-gb/good-to-know/nutrition-calculator.html
Restaurant, coffee and fast food chains were visited w/c 21st May 2018 to see if full nutrition information was available at the point of sale. If information was not visibly present then we asked staff behind the counter if they had it to hand. Those that only provided kJ/kcal or saturates were not counted as providing full nutrition information because other nutrient values, included salt, were not displayed.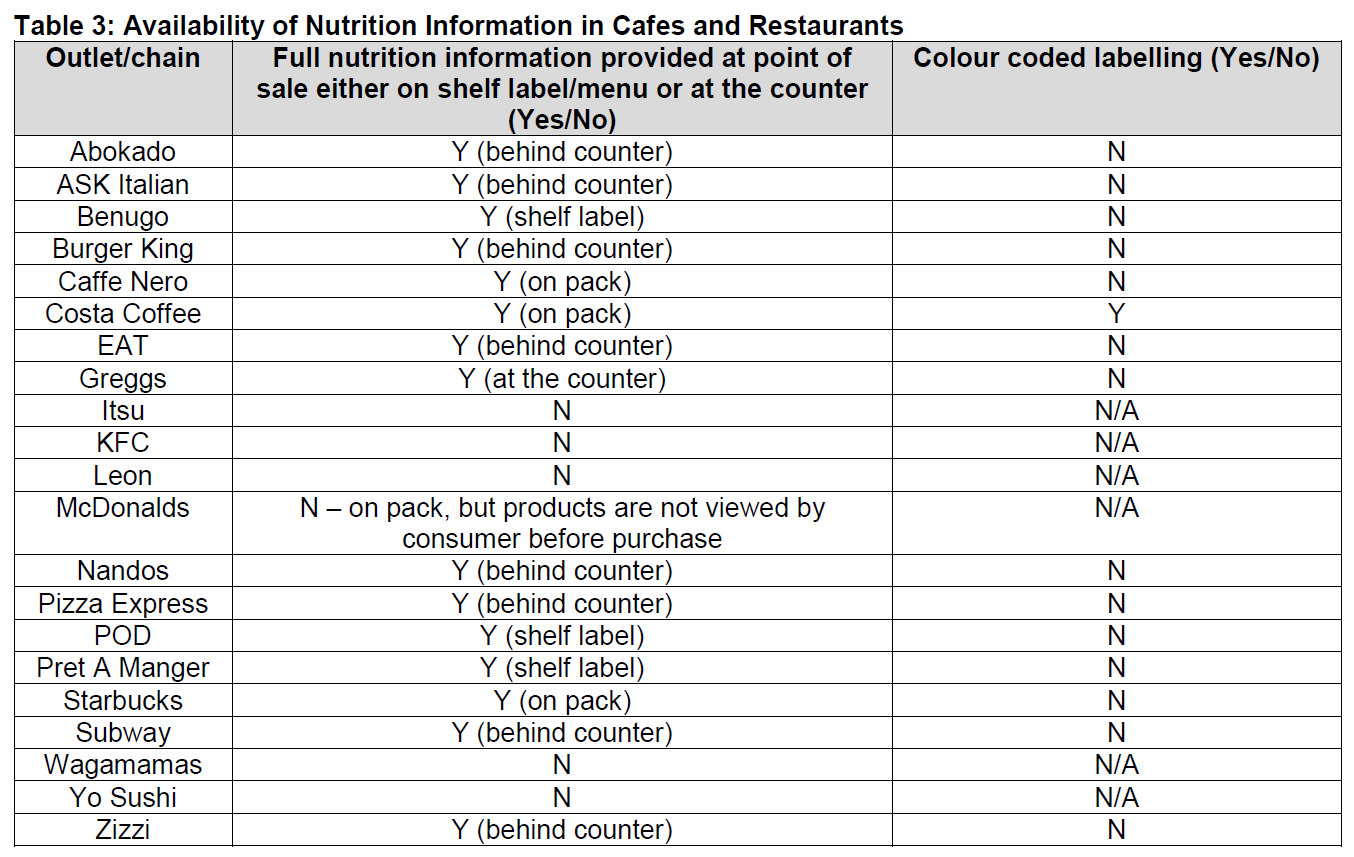 7. All available supermarket salads were surveyed in July 2014, totalling 513 salads. The average salt content of supermarket salads was 1.05g per portion - http://www.actiononsalt.org.uk/news/surveys/2014/salads/#d.en.487222. The average salt content of the 312 retail salads surveyed in 2018 was 1.06g per portion
8. Table 4 shows the change in salt content per 100g of salads included in both the 2014 and 2018 surveys

9. Government criteria for colour coding on a front of pack label https://assets.publishing.service.gov.uk/government/uploads/system/uploads/attachment_data/file/566251/FoP_Nutrition_labelling_UK_guidance.pdf. For salt, the criteria for low (green) is ≤ 0.3g/100g
10. Adult fat and saturated fat intake guidelines https://www.nhs.uk/live-well/eat-well/different-fats-nutrition/
11. Zizzi's Arcobaleno 'Rainbow' Salad with Goat's Cheese contains 20g of saturated fat per serving https://www.zizzi.co.uk/data/menus/static_menus/6/pdf/Nutritional_Info_Menu_Web_PDF_TAB.pdf
12. Pizza Express Pollo Salad wiith Dough Sticks contains 17.1g saturates per serving https://www.pizzaexpress.com/help-and-contact/do-you-have-full-nutritional-information-for-your-menu-available?ListType=search