Enough is Enough - Food Manufacturers Accused of Pathetic Progress on Salt Reduction as New Survey Finds Two Rashers of Bacon are Saltier than 8 Bags of Crisps!
Some bacon contains nearly FOUR TIMES more salt than competitor brands, showing lower salt bacon is easily possible
Action on Salt calls time on ineffectual measures and urges the new government to impose mandatory targets with strict penalties. This action will save thousands of unnecessary deaths from strokes and heart attacks, with huge cost savings to the NHS.
Click here for Bacon Survey Report [PDF 1,124KB]
Click here for Bacon Data [PDF 452KB]
Click here for an Email Guide to Manufacturers / Retailers [DOC 12KB]
Click here for Media Coverage
NEW survey[1] findings by Action on Salt (based at Queen Mary University of London) have revealed the astonishing and varying levels of salt found in bacon – the second biggest contributor to salt in the UK diet[2] – whilst at the same time exposing the dismal lack of progress made by the food industry in meeting voluntary salt reduction targets[3].
Today, the group of experts is urging the newly formed government to reignite a comprehensive salt reduction programme, with mandatory targets for salt levels in products that all companies would be expected to meet and strict penalties / levies for those who fail to comply.
Given this, it's inconceivable that the food industry is feeding us with incredibly salty bacon way above the salt target set by the Department of Health and Social Care. Of the 171 bacon products collected from ten main UK supermarket chains, 86% have a salt concentration equal to or greater than seawater[4].
The saltiest bacon offender was Tesco Finest Unsmoked 8 Wiltshire Cure Back Bacon Medallions with a staggering 5.3g/100g[*][5], more than twice the concentration of seawater, and the equivalent salt content of 1 Burger King Hamburger in just 1 rasher[6]
This survey importantly shows that bacon can easily be made with far less salt. The least salty bacon overall was The Co-operative 8 Reduced Fat Unsmoked Bacon Medallions with just 1.45g/100g* of salt – 4 times less salt compared to the saltiest bacon offender.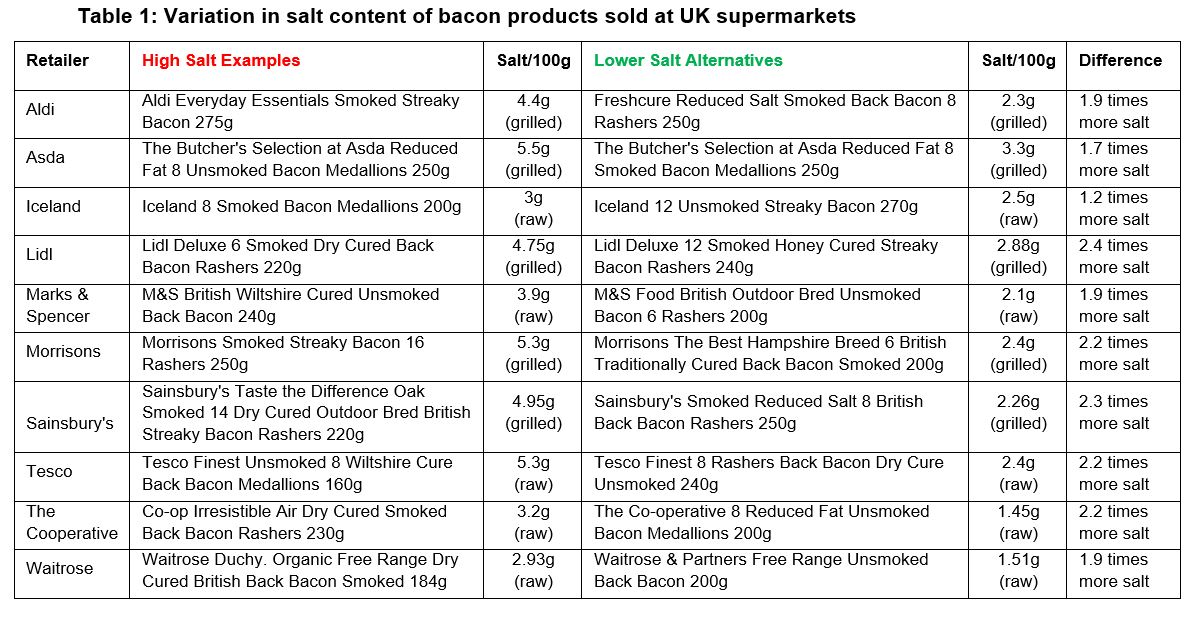 Labelling
All products surveyed should carry a red traffic light label for salt on front of pack, except one, The Co-operative 8 Reduced Fat Unsmoked Bacon Medallions (1.45g/100g)[†]. Thankfully, three in four (74%) of the bacon products surveyed had colour coded labelling on front of pack, which is a significant improvement from Action on Salt's 2012 bacon survey[7], where only half (51%) provided some form of labelling on front of pack.
Tesco[8] and Iceland are the only two supermarkets who have opted for no front of pack label on any of their bacon products, putting their customers at a disadvantage as it is the only way to knowingly make a healthier choice.
Astonishingly, products labelled with 'reduced salt' aren't necessarily the lowest as some still contained more salt than those which did not display a specific nutrition claim to salt. Examples include Lidl Birchwood Smoked Reduced Salt Back Bacon (2.13g per 100g as sold) vs Waitrose Free Range Unsmoked Back Bacon (1.51g per 100g as sold).
To add further confusion, there is no consistency on declaration of nutrition information with some companies providing nutritional information for bacon as raw, whilst others declare information as cooked. This makes it challenging to compare products as salt values for raw bacon are significantly lower than for cooked, and potentially misleads consumers by providing unrealistically lower levels of salt to the diet.
With simple swaps, using available tools like FoodSwitch[9], consumers could make significant changes to their overall salt intake. For example, if someone were to make a bacon roll at home using saltier ingredients – they could consume as much as 4.02g salt – that's more than two thirds their MAXIMUM DAILY intake[10] and 531kcal! However, by using lower salt ingredients, their bacon roll could deliver 3.5 times LESS salt – reducing it to 1.14g salt and saving 149kcal[11].
2012 survey
In 2012, Action on Salt surveyed bacon products sold in retail10. Of the 33 directly comparable bacon products surveyed, nearly two thirds have either stayed as salty or become MORE salty since 2012. The bacon with the biggest reduction was Co-op's Outdoor Bred British Smoked Rindless Back Bacon, which was 3.8g/100g in 2012 and is now 2.78g/100g. Overall, Marks & Spencer seemed to have made the least amount of progress, increasing their salt content on average by 0.27g. Notably, their Dry Cured Smoked Back Bacon appears to have increased by almost a third (30%), from 2.55g/100g in 2012 to 3.33g/100g in 2019.
Sonia Pombo, Campaign Manager for Action on Salt says: "Given the fact that bacon is the biggest contributor to salt after bread in the UK diet, and that we are still far exceeding our daily salt targets, it's shocking to learn that food manufacturers are still ignoring the voluntary salt reduction targets and putting profits before the health of the nation. We have seen great success with the soft drinks industry levy in driving reformulation14, and the government must now consider doing the same for key contributors of salt in UK diet, such as bacon. This way, everyone's health benefits, including the socially deprived."
Zoe Davies, Nutritionist at Action on Salt explains: "Whilst it's great to see a higher uptake of colour coded nutrition labelling, some retailers have completely avoided it or even removed it, and the out of home sector doesn't use it at all, putting their customers at a disadvantage when looking for healthier alternatives. Government should seize the opportunity of Brexit, and set mandatory colour coded front of pack labelling immediately, to make it easier for customers to choose healthier options."
Graham MacGregor, Professor of Cardiovascular Medicine at Queen Mary University of London and Chair of Action on Salt, adds: "Whilst Boris Johnson has pledged to spend millions of pounds on building new hospitals – many of which will treat the many thousands of people suffering or dying from strokes and heart disease, the Prime Minister must be reminded that just one-gram reduction in population salt intake prevents more than 4,000 premature deaths per year in the UK and costs next to nothing to implement12.
"For many years, food manufacturers have been allowed to put profits before the health of our nation and we now urgently need Boris Johnson's no nonsense approach to get things done with an 'oven ready' mandatory salt reduction programme for all products for 2020. This will save thousands of people suffering and dying unnecessarily, and at the same time provide huge cost savings to the NHS[12]."
Top tips for consumers:
Check the label and use the FoodSwitch app to find healthier options
Be mindful of portion sizes. Some manufacturers declare unrealistic portion sizes (e.g. one rasher) or reduce the size of the rasher so that overall nutrition information is altered.
Try to avoid eating bacon with other salty ingredients such as bread, cheese, baked beans and instead have grilled tomato, grilled mushrooms, no added salt baked beans or eggs
Bacon can also be high in fat, so grill your rashers to reduce the amount of fat
For a healthier bacon (and gammon), soak in water and rinse in hot water to remove some of the salt and remove the rind to reduce saturated fat
If you want to have ketchup, mustard or brown sauce with your bacon, check the labels first and choose the lower salt options as these can be another source of hidden salt
Alternatives to pork tend to be lower in saturated fat and salt, e.g. turkey rashers, or plant based options, but they still contain added salt
When eating out, ask for 'less salt please' and tell the waiter if you find your meal too salty
ENDS
National PR – David Clarke: david@rock-pr.com M: 07773 225516
Website: http://www.actiononsalt.org.uk
Twitter: @actiononsalt #LessSalt
Notes to editors:
Action on Salt is a group concerned with salt and its effects on health, supported by 24 expert scientific members. Action on Salt is successfully working to reach a consensus with the food industry and Government over the harmful effects of a high salt diet, and bring about a reduction in the amount of salt in processed foods as well as salt added to cooking, and at the table.
In the early 2000's the UK pioneered a salt reduction strategy with the Food Standards Agency and Action on Salt with the setting of incremental salt targets, so that the food industry was slowly reducing the huge and unnecessary amounts of salt they add to food. This resulted in a fall in UK population salt intake, a fall in average blood pressure and more than 12,000 lives have been saved from preventing strokes and heart disease. However, in 2010 responsibility for salt reduction was switched to the Department of Health and the food industry was made responsible for policing itself, a policy that unsurprisingly failed. Further salt reduction targets were set to be achieved by the end of 2017 but little action has been taken to ensure the food industry is meeting these targets. All of the above has meant that the salt reduction programme has been slowed down with the result that many thousands of people have died unnecessarily and huge and unnecessary costs have been incurred by the NHS. Salt is the forgotten killer; the time has come for the Department of Health and Social Care to allocate sufficient resources to immediately resuscitate the UK salt reduction programme.
[*] As sold
[†] Value is for 'as sold' i.e. raw bacon
[1] Action on Salt surveyed all pork bacon rashers and medallions. Nutrition information was collected between 28th November and 3rd December from product packaging in Aldi, Asda, Iceland, Lidl, Marks & Spencer, Morrison's, Sainsbury's, Tesco, The Cooperative and Waitrose. In total 171 bacon products were collected: 108 back bacon, 16 medallions, 3 middle bacon, 44 streaky bacon.
Some companies provide nutrition information 'as sold' or 'as cooked/grilled' – this impacts the reported salt content as raw figures do not account for water/fat loss on cooking, meaning the salt concentration is less. With this in mind it is difficult to make overall comparisons across companies. We have reported the information as it is provided on the label.
[2] Bacon is second biggest contributor of salt to UK diet (4.66%), after bread (14.24%), according to Public Health England Salt Reduction Progress Report
[3] Public Health England Salt Reduction Targets for 2017. Bacon has a salt target of 2.88g/100g (as sold).
[4] Atlantic seawater has a sodium concentration of 1g per 100g. This is equivalent to 2.5g per 100g of table salt (NaCl).
[5] Nutrition values differ between products, but also depending on whether the values are for raw or cooked. Raw values do not take into consideration any loss of water or fat, and therefore information on salt per 100g is lower compared to cooked values. Other examples of bacon higher in salt are available, but in this instance for comparison reasons, we have compared products where nutrition information is displayed 'as sold'.
[6] A Burger King Hamburger contains 1.1g salt
[7] Action on Salt Bacon Survey, 2012
[8] According to our records, up until 2016 Tesco had some form of front of pack label, but now omit this information.
[9] FoodSwitch UK app helps you find healthier choices – simply scan the barcode of your regular brand to get colour coded nutrition information and see a list of healthier alternatives. Download the app actiononsalt.org.uk/foodswitch/.
[10] Maximum daily intakes for an adult is 6g/day, about a level teaspoon. SACN Salt & Health Report 2003
[11] Examples of different ingredients used in a homemade bacon roll and how it can impact your overall calorie and salt intake

[12] NICE Guidance on the prevention of cardiovascular disease at the population level. June 2010