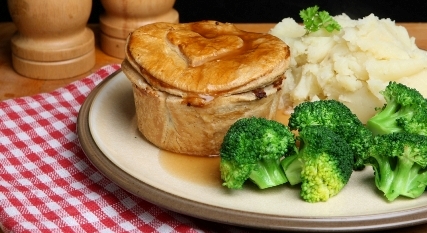 17th March 2011
A pie and mash meal from Wetherspoon's contains a massive 7.5g of salt – the same amount of salt as 15 packets of crisps and 125% of the daily maximum recommendation of 6g
Men are putting their health at risk by eating the equivalent of 365 pints of salt in a lifetime
As many as 1 in 10 men think they should eat 10g or more of salt per day
For Media Coverage: Pies Media Coverage
Full supermarket data [PDF 631KB]
Full takeaway/cafe data [PDF 272KB]
Full takeaway/cafe data [PDF 272KB]
Full results available to download here [PDF 152KB]
Press Release
Consensus Action on Salt and Health's (CASH) new research, carried out as part of National Salt Awareness Week, has identified traditional English meat dishes, such as pie and mash, as one of men's favourite foods (46% Ref 1). The aim of this year's Week is to raise awareness amongst men of the dangers of eating too much salt. In the UK, over twice as many men as women die prematurely of heart disease, heart failure and stroke (34,431 vs. 16,664 adults under 75 - Ref 2), many of these deaths could have been prevented by eating less salt.
The new survey, which looked at 526 pie, mash and gravy products from supermarkets, large chain pubs, cafes and takeaways (Ref 3), showed that pie meals can be extremely high in salt. A Chicken and Mushroom Pie with chips or mash, gravy and peas from Wetherspoons contains a MASSIVE 7.5g of salt (Ref 4) – the equivalent salt to 15 packets of crisps (Ref 5), or 125% of the daily maximum recommendation of SIX GRAMS A DAY. All the pie and mash pub meals looked at contained more than 3g, half the daily maximum, with 5 meals containing MORE than 6g.
Top 5 saltiest pub pie meals:
1. Wetherspoon Chicken & Mushroom Pie with chips/mash, gravy and peas (7.5g salt per meal)
2. Wetherspoon British Beef and Abbot Ale Pie with chips/mash, gravy and peas/vegetables (6.7g salt per meal)
3. Punch Taverns Lamb & Mint Pie with mash, veg and gravy (6.5g salt per meal)
4. Punch Taverns Steak & Ale Pie with mash, veg and gravy (6.3g salt per meal)
5. Hungry Horse Pubs Beef & Ale Pie with mash, peas and gravy (6.18g salt per meal)
CASH found that the mash and gravy could be almost doubling the salt content of your meal. For instance while a Lamb & Mint Pie from Punch Taverns contains 3.5g of salt alone, the mash and gravy add another THREE grams of salt to the meal.
Although there has been good progress in reducing the salt content of pies available in supermarkets, with 1 in 10 (29 out of 297) products failing to meet the 2010 salt reduction targets (Ref 6), there are still many products available that are unnecessarily high in salt. The highest supermarket pie in the survey was a Waitrose Steak, Mushroom & Red Wine Pie which contains 1.0g of salt per 100g (2.69g of salt per 270g portion). This is over three times as much salt per 100g as the lowest supermarket products such as ASDA's Chosen by You Creamy Chicken & Mushroom Puff Pastry Pie with 0.3g of salt per 100g (0.5g per 150g portion) and Sainsbury's Taste The Difference Beef Steak Pie with Shortcrust Pastry with 0.28g salt per 100g (0.55g per 200g portion).
Top 5 saltiest pies from supermarkets
1. Waitrose Steak, Mushroom & Red Wine Pie (2.69g salt per 270g portion)
2. Waitrose Aberdeen Angus Steak & Ale Topcrust Pie (2.69g salt per 300g portion)
3. Marks & Spencer Gastro Pub (main for 1) Aberdeen Angus Steak and Stilton Pie made with Tuxford and Tebutt Stilton (2.68g salt per 260g portion)
4. Iceland (meal for the family) Steak Pie (2.6g per 350g portion)
5. Alfie Chadwick Cumberland Chicken Pot Pie (2.5g per 260g portion)
Buying prepared gravy and mash from your local supermarket can also result in you eating excess salt. If you combined the Waitrose Steak, Mushroom & Red Wine Pie (2.69g of salt per portion) with their Mashed Potato (1.13g of salt per portion) and their Onion Gravy (0.50g of salt per portion) you would be having 4.32g of salt per portion – nearly three quarters of the daily maximum recommendation. The highest mash and gravy - Tesco Finest Creamy Mash (1.6g of salt per portion) and Asda Extra Special Slow Cooked Beef Gravy (1.65g of salt per portion) - each contain more salt than 3 packets of crisps.
Takeaway pies can hugely vary too, an EAT. Chicken & Mushroom Pie contains 2.7g of salt per portion whereas a Goats Cheese and Sweet Potato Pie from EAT. contains nearly 2g less salt with just 0.8g salt per portion.
"Men need to reduce the salt in their diets but, although few would think of pie and mash as a healthy meal, many do not realise they could be exceeding their daily maximum of 6 grams salt in just one meal" says Katharine Jenner, Nutritionist and Campaign Director of CASH. "Just a few simple changes such as reading the labels in supermarkets or skipping the gravy in pub meals could help you stay within the healthy recommendations".
Unlike in supermarkets where almost all products surveyed have some nutritional information and 70% have front of pack information, most pubs, cafes and takeaway outlets do not. Only five pub chains had nutritional information available online, with leading chains such as Punch Taverns, Young's, O'Neill's, Fuller's, Yates's and Ember Inn's failing to provide any information at all, meaning it is difficult to keep track of what you're eating when dining out.
The maximum daily recommendation for salt is 6g a day (about a teaspoon) however, men currently eat about 10g of salt a day, the equivalent of 365 pints of salt in a life time, with young men eating even more (Ref 6). CASH's public opinion survey commissioned for the Week found that only 1 in 7 (15%) men knew that 6g was the daily salt maximum recommendation with as many as 1 in 10 men (10%) incorrectly thinking they should eat TEN grams or more of salt a day (Ref 1).
"With the food industry still putting so much salt in men's favourite foods, it is no wonder men are at risk of serious health problems such as stroke and heart attacks, the commonest causes of death and disability in the UK" says Graham MacGregor, Professor of Cardiovascular Medicine at The Wolfson Institute and Chairman of CASH. "Cutting men's salt intake from the current 10g a day to the recommended maximum of 6g a day could reduce their risk of having a stroke by up to 20% and of having a heart attack by up to 12% (Ref 7)."
CASH is using National Salt Awareness Week 2011 to raise awareness of the dangers of the high salt in men's diets, and is working with a number of UK charities including The British Heart Foundation, The Stroke Association, Men's Health Forum, National Osteoporosis Society, Cancer Research UK, National Heart Forum, Blood Pressure Association, National Obesity Forum, Kidney Research UK, Asthma UK, Meniere's Society and Alzheimer's Society to take the message across the country, along with some high profile supporters:
Tracy Parker, a heart health dietitian for the British Heart Foundation, said: "Pie and mash is great comfort food but it's easy to forget it can come packed with salt. This is bad news for our hearts because too much salt can raise our blood pressure, which is a major risk factor for heart disease.
"If you're in the supermarket, look out for traffic light coloured food labels as they provide at-a-glance information on salt content. While if you're in the pub, takeaway or cafe and can't find this information, making simple changes such as skipping the gravy, avoiding using the salt cellar and choosing more vegetables can also make a big difference to the amount of salt we eat without missing out on our favourite foods."
Professor Neil Turner, chairman of Kidney Research UK comments: "The scenario for people who ignore their recommended daily salt intake can be dire, as it can result in serious health problems such as kidney disease. With 47,000 people being treated for kidney failure every year in the UK and no known cure for the disease, it's crucial that people are fully aware of everything they can do to reduce the possibility of developing this illness."
Levi Roots - Celebrity Chef "This year let's all correct a fault and reduce our intake of salt; it's all about a healthier life style. One love."
Antony Worrall Thompson - Celebrity Chef "I'm pleased that the effect of a high salt diet on men's health is being highlighted in Salt Awareness Week. I support this initiative and would urge the food industry to think about how much salt is added to our food."
TIPS for eating pies with less salt:
• Stick to supermarket pies and check the label when choosing them
• Avoid pies with salty ingredients such as ham, bacon and cheese
• When eating out, don't use all of the gravy as it will add unnecessary salt to your meal
• When eating out, request a jacket potato instead of mash
• When buying gravy granules, choose reduced salt options
• If making pie at home, use lots of low salt ingredients such as low fat crème fraîche, chicken and vegetables and go for filo pastry as this is lower in fat
• Make your own mash at home!
• For low salt recipes, download our Men's Recipe Booklet from www.actiononsalt.org.uk
JD Wetherspoon spokesman Eddie Gershon comments: "JD Wetherspoon is working closely with its food suppliers, development chefs and the Food Standards Agency to reduce the level of salt in all of its meals. The Chicken Pie and the British Beef and Abbot Ale Pie are very popular with our customers. We take on board the findings of this report and we will take steps to reduce the level of salt in both these meals in the coming months, the salt content is for the whole meal, the Pie, Mash, Mushy Peas and the Gravy. Our most popular pie is the Steak and Kidney Pudding served with Chips, Garden Peas and Gravy with a salt content of 4 grams."

##END##
Notes to Editor
For more information or contact:
Follow us on twitter at http://twitter.com/cashsalt
Tables
Table 1 - Five Highest Pub Meals
| | | |
| --- | --- | --- |
| Pub Chain | Meal | Salt/portion (g) |
| Wetherspoon | Chicken & Mushroom Pie with chips/mash, gravy and peas | 7.5 |
| Wetherspoon | British Beef and Abbot Ale Pie with chips/mash, gravy and peas/veg | 6.7 |
| Punch Taverns | Lamb & Mint Pie with mash, veg and gravy | 6.5 |
| Punch Taverns | Steak & Ale Pie with mash, veg and gravy | 6.3 |
| Hungry Horse Pubs (Greene King) | Classic Ruddles Pie with mash, peas and gravy | 6.18 |
Table 2 - Five Lowest Pub Meals
| | | |
| --- | --- | --- |
| Pub Chain | Meal | Salt/portion (g) |
| Young's | Award Winning Steak & Ale Pie with mash and veg | 3.9 |
| Young's | Award Winning Chicken, Leek & Ham Pie with mash and veg | 4.1 |
| Brewer's Fayre | Beef & Ale Pie with chips, peas and gravy | 4.3 |
| Fuller's | Pie Tasting Plate with mash and gravy (for 2) | 4.3 |
| Beefeater | Beef, Mushroom and Ale Pie with chips, peas and gravy | 4.6 |
Table 3 - Ten Highest Supermarket Pies
| | | | | |
| --- | --- | --- | --- | --- |
| Brand/retailer | Product Name | Portion Size (g) | Salt/100g (g) | Salt/portion (g) |
| Waitrose | Steak, Mushroom & Red Wine Pie | 270 | 1 | 2.69 |
| Waitrose | Aberdeen Angus Steak & Ale Top crust Pie | 300 | 0.9 | 2.69 |
| Marks & Spencer Gastro Pub | (main for 1) Aberdeen Angus Steak and Stilton Pie made with Tuxford and Tebutt Stilton | 260 | 1.03 | 2.68 |
| Iceland | (Meal for the Family) Steak Pie | 350 | 0.8 | 2.6 |
| Alfie Chadwick | Cumberland Chicken Pot Pie | 260 | 1.0 | 2.5 |
| Alfie Chadwick | Yorkshire Beef, Beer & Mushroom Pie | 260 | 1.0 | 2.5 |
| Dorset Pies | Beef, Mushroom, Bacon & Red Wine topped with Caramelised Onion Scone | 280 | 0.9 | 2.5 |
| Pieminister | Moo & Blue Pie | 275 | 0.9 | 2.43 |
| Pieminister | Thai Chook Pie | 275 | 0.9 | 2.43 |
| McDougall's Uppercrust | Gastro Style 2 Chicken, Mushroom & Bacon Pies | 200 | 1.2 | 2.4 |
Table 4 - Ten Lowest Supermarket Pies
| | | | | |
| --- | --- | --- | --- | --- |
| Brand/retailer | Product Name | Portion Size (g) | Salt/100g (g) | Salt/portion (g) |
| ASDA Chosen By You | Creamy Chicken and Mushroom Puff Pastry Pie | 150 | 0.3 | 0.5 |
| ASDA Chosen By You | Steak & Gravy Puff Pastry Pie | 150 | 0.3 | 0.5 |
| The Co-Operative Taste The Seasons - Winter | Chicken & Gravy Shortcrust Pastry Pie | 137.5 | 0.4 | 0.5 |
| Sainsbury's Taste The Difference | Beef Steak Pie with Shortcrust Pastry | 200 | 0.28 | 0.55 |
| Sainsbury's Basics | 4 Chicken & Vegetable Pies | 121 | 0.52 | 0.59 |
| ASDA Smartprice | Minced Beef & Onion Pie | 150 | 0.4 | 0.6 |
| ASDA Chosen By You | (Puff Pastry) 4 Steak Pies | 156 | 0.4 | 0.6 |
| Tesco Value | 4 Minced Beef & Onion Pies | 121 | 0.5 | 0.6 |
| Tesco Value | 4 Chicken & Vegetable Pies | 121 | 0.5 | 0.6 |
| The Co-Operative | Deep Fill Chicken & Bacon Puff Pastry Pie | 125 | 0.5 | 0.6 |
Table 5 - Ten Highest Takeaway/Cafe Pies
| | | | |
| --- | --- | --- | --- |
| Outlet/brand | Product Name | Salt/100g (g) | Salt/portion (g) |
| Holland's | Chicken Balti Pie | 1.56 | 2.83 |
| EAT | Chicken and Mushroom Pie (improved recipe) | 1 | 2.7 |
| London Takeaway Outlet | Steak & Kidney Pie (Pukka) | 1.71 | 2.3 |
| Lewis's Pies (Regal range) | Minced Beef & Onion Pie | 1 | 2.25 |
| Lewis's Pies (Regal range) | Steak & Kidney with Onion Pie | 1 | 2.25 |
Table 6 - Ten Lowest Takeaway/Cafe Pies
| | | | |
| --- | --- | --- | --- |
| Outlet/brand | Product Name | Salt/100g (g) | Salt/portion (g) |
| EAT | Goats Cheese and Sweet Potato Pie | 0.3 | 0.8 |
| Lewis's Pies (Regal range) | Aloo Gohst Pie | 0.5 | 1.25 |
| Lewis's Pies (Regal range) | Tex Mex | 0.5 | 1.25 |
| EAT | Beef and Stilton Pie | 0.5 | 1.4 |
| EAT | Cheese and Onion Pie | 0.5 | 1.4 |
Survey Details/References
Ref 1 – Public Opinion Survey commissioned by CASH. Traditional English and Indian cuisines came out as the British man's favourite foods, with Traditional English meat dishes such as pies, steak and sausages on top for men, with almost half of men saying they were one of their favourite cuisines (46% each).
NB All figures, unless otherwise stated, are from YouGov Plc. Total sample size was 2015 adults of which 922 were men. Fieldwork was undertaken between 28th - 31st January 2011. The survey was carried out online. The figures have been weighted and are representative of all GB adults (aged 18+).
Ref 2 – England and Wales, Office for National Statistics (2008). Deaths registered by cause, sex and age
Ref 3 – Pie survey details, Tables below:
• This survey looked at 526 pie, mash and gravy products from supermarkets, cafes, takeaways and pubs
• This included all pastry based pies (individual/family sized, fresh/frozen), ready-prepared mash and all types of gravy (granules/fresh). Lattices, slices, quiches, cottage pie, shepherd's pie, fish pie were all excluded.
• Product data for supermarkets was collected in store and online. Out of home data was collected online where possible (Wetherspoons, Hungry Horse, Hardy's House, Beefeater, Brewer's Fayre, EAT., Holland, Square Pies, Lewis Pies) and analysed using a Public Analyst (Kent Scientific Services) when nutritional information was not available online (Fuller's, Young's and Punch Taverns and local takeaway pies).
• The survey was carried out in February–March 2011, with all figures in this release being checked 9-14th March 2011.
Ref 4 – A standard 34.5g packet of Walkers Ready Salted Crisps contains 0.5g of salt (12% of GDA)
Ref 5 – The 2010 salt target for meat based pastry products is 1.0g salt per 100g. The salt target for 2012, as agreed in the Department of Health's Public Health Responsibility Deal is 0.75g salt per 100g.
Ref 6 – All Men, 9.7g (Men 19-24 10.67g) vs. All women, 7.7g Ave daily salt intake (g/day). http://www.food.gov.uk/multimedia/pdfs/08sodiumreport.pdf. Men's salt intake in adult life (59.7years) equiv in ml -207,140.49ml divided by 1 pint (568.26ml) = 364.52 pints.
Ref 7 –He and Macgregor. How far should salt intake be reduced? Hypertension. 2003;42:1093-9