30th July 2014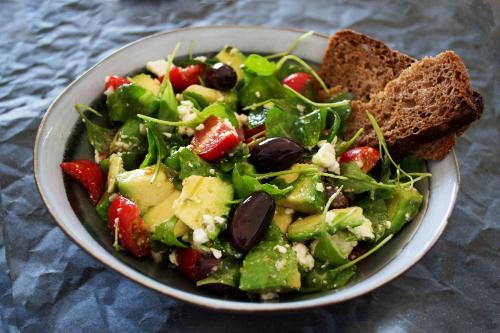 Huge amounts of salt continue to be added to many restaurant, café and supermarket salads, according to a new survey by Consensus Action on Salt & Health (CASH). This is despite calls in 2010 to lower salt in salads, as certain restaurateurs and food manufacturers continue to sneak in large amounts of unnecessary salt when it comes to serving up their 'healthier' dishes and raising the nation's blood pressure [Ref 1].
For full data, Salad Data [PDF 1,461KB]
For media coverage: Salads Media Coverage
For healthy low salt salad recipes, click here

CASH surveyed 650 ready-to-eat salads available for purchase from supermarkets, restaurants, cafés and fast food restaurants and found nearly three quarters (77% - 511 products) to contain more salt than a packet of crisps (0.5g/portion) [Ref 2].

Of the out of home salads:
Pizza Express' 'Grand Chicken Caesar Salad' contains an astonishing 5.3g salt/serving, the equivalent of two and a half Big Macs [Ref 3], and almost your whole days' worth of salt (6g) in just one meal.
Pizza Express' 'Warm Vegetable & Goats Cheese Salad' containing 5g salt/serving - four fifths (83%) of your maximum recommended intake.
Wagamama's 'Lobster Super Salad' contains 4.5g salt/serving – three quarters (75%) of your salt limit for the day in just one meal.
Nando's 'Mediterranean Salad with Chicken Breast' which sounds like the healthy option contains a whopping 4.00g salt/serving, that's two thirds (67%) our maximum recommended intake.
A McDonald's 'Crispy Chicken & Bacon Salad' has MORE salt (1.3g vs 1.2g), fat (19g vs 8g) and calories (380kcal vs 250kcal) per portion than a McDonald's Hamburger [Ref 4].
Of the supermarket salads, examples of those with the largest amount of salt/serving include:
Morrisons 'Chicken & Bacon Pasta Salad' 2.8g salt/290g serving
Marks & Spencer 'Chicken, Bacon & Sweetcorn Pasta Salad' 2.58g salt/380g serving
Boots 'Delicious Simply Tuna & Sweetcorn Pasta Salad' 2.25g salt/300g serving
John West 'Light Lunch Moroccan Style Salmon Salad' 2.2g salt/220g serving
What's interesting is that even the specially created foods which target the health conscious shopper e.g. superfood and detox salads, can also contain a high salt content. For example:
Pod 'Chicken Detox Box' contains 4.0g salt/serving (two thirds of our Reference Intake (RI))
Pizza Express under 500 calories 'Leggera Salmon Salad' contains 2.4g salt/serving (40% RI)
If you read the label, you can find lower salt options, however over one in ten (15%) salads would get a red (high) colour for salt, and two thirds (69%) would receive an amber (medium) colour [Ref 5]. The survey found some salads surveyed with the much less salt added included a mixture from both restaurants and supermarkets, for example:
Boots Shapers 'Moroccan Style Roasted Vegetable Salad' 0.5g/225g serving
Caffè Nero 'Chicken Salad with Caesar Dressing' 0.5g/178g serving
Waitrose 'Refreshing & Delicate Quinoa & Sugar Snap Pea Salad' 0.51g/170g serving
NB. These are examples of salads where portion sizes are the whole packet and dressing is included

FoodSwitch, a free health app available on smartphones and can easily help you choose healthier and lower salt salads [Ref 6]. Simply scan a products barcode and the app will instantly tell you whether the product is high (red), medium (amber) or low (green) in fat, saturates, sugar and salt per 100g.
Sonia Pombo, a nutritionist at CASH explains, "Say the word 'salad' and you tend to imagine a bowl of healthy stuff nestled amongst some leaves, but that's not accurate. Whilst salad itself is both healthy and tasty, food manufacturers and restaurants continue to add unnecessary salt to the dish, which not only alters the taste and makes you feel bloated, but more seriously, can lead to high blood pressure – the main cause of strokes and heart attacks."
In 2010, CASH conducted a similar salad survey [Ref 7] and thankfully the average salt content in supermarkets salads has reduced significantly by 35% since 2005, from 1.64g/portion to 1.26g/portion in 2010 and to 1.05g/portion in 2014. Congratulations to manufacturers that have made reductions.
Graham MacGregor, CASH Chairman and Professor of Cardiovascular Medicine at the Wolfson Institute, Queen Mary University of London says "It is nonsensical that something as seemingly healthy as a salad should contain an ingredient that is proven to be harmful to your health. Whilst we congratulate the responsible manufacturers that have gradually reduced the salt in their products, we urge ALL manufacturers to sign up to the Department of Health's 2017 salt pledge [Ref 8] and to cut the salt in their dishes now. Many salads are deceptively high in salt, and the very large variation of salt content shows that the highest ones can easily be reduced. The food industry needs to show much greater responsibility for its customers' health."
Victoria Taylor, Senior Dietitian at the British Heart Foundation, says: "It's not unreasonable to think that if you pick a salad it's going to be a healthy choice. But this survey shows in some cases what you see might not always be what you get. A colourful salad full of vegetables may look like a healthy way towards your 5-a-day but what you can't see is the salt content which, in some cases, could amount to almost a whole day's worth in one portion. It's good to see progress is being made to drive down our salt intake, but there's still work to be done. That's why clear, colour-coded labelling on food packaging is so important to help people make more positive, informed choices about what they eat."
Top tips for making healthier salad choices;
Keep an eye out for salty ingredients e.g. cheese, capers, anchovies etc. These will easily up your salt intake
Beware misleading portion sizes on front of pack e.g. a third of a packet, or 1 tablespoon. This gives favourable values for front of pack labelling, when realistically you would eat the whole packet
Many salad dressings are packed with salt and calories. Choose one with less salt, add less to your salad, or leave it out completely
Make your own salad! Opt for healthy low salt ingredients, and make your own dressing e.g. olive oil and a squeeze of lemon juice. Pack your salad with herbs for extra flavour
Check the label! Use FoodSwitch to make switching easier
For a more flavoursome salad, add unsalted beans, pulses, nuts and seeds
-ENDS-
Notes to editors:
National PR - David Clarke: david@rock-pr.com 07773 225516
Website www.actiononsalt.org.uk
Tweet https://twitter.com/cashsalt #LessSalt
1 - Survey details, full data tables are available with this release
• The survey looked at 650 salads including noodle, rice, bean, pasta and couscous based salads.
• Product data was collected from product packaging, online and from customer services from the leading supermarkets Aldi, ASDA, The Co-operative, Lidl, Marks and Spencer, Morrison's, Sainsbury's, Tesco and Waitrose (513 in total) and the leading high street café, restaurant and fast food chains, Abokado, Ask, Benugo, Boots, Burger King, Caffè Nero, Carluccio's, Costa, EAT., Gregg's, Itsu, KFC, Leon, McDonald's, Nandos, Pizza Express, Pod, Pret A Manger, Starbucks, Subway, The Real Greek, Wagamama's, J D Wetherspoon, YO! Sushi, Zizzi (137 in total).
• Figures in this release are based on the nutritional information provided
• 14 products available from ASDA provide no nutritional information
• Traffic light information was either provided on pack or calculated by CASH using 100g salt data and suggested portion cut offs
• Data was collected in store from 23rd June to 22nd July 2014 and products in this release purchased w/c 21st July.
Ref 2 – A standard 32.5g packet of Walkers Ready Salted Crisps contains 0.5g of salt (8.5% of the daily maximum recommended intake of salt)
Ref 3 – A McDonald's Big Mac contains 2.1g salt per portion.
Ref 4 – A McDonald's Hamburger contains 250kcal, 8g fat, 3g saturates, 8g sugars and 1.2g salt per portion
Ref 5 – Front of Pack Labelling
The ratings for red, amber and green for each nutrient are based on the Department of Health Guide to Creating a Front of Pack (FoP) Nutrition Label for Pre-packed Products Sold Through Retail Outlets:
https://www.gov.uk/government/uploads/system/uploads/attachment_data/file/207588/FINAL_VERSION_OF_THE_2013_FOP_GUIDANCE_-_WEB.pdf
Traffic light labels are given per 100g, with a threshold cut-off per portion.
Energy (calories and kilojoules) are not coloured.
Salt - Green ≤0.30g/100g, Amber >0.30≤1.50/100g, Red >1.5g/100g or >1.8g/portion
Of the salads with Front of Pack information:
o 15% (91 salads) would receive a RED colour for salt per portion. 52% (47) were from salads bought in restaurants and cafes & 48% (44) were supermarket salads
o 69% (406) of products have an AMBER for salt
o 19% (109) of products have a GREEN for salt
Ref 6 - About FoodSwitch
FoodSwitch is a free smartphone app that provides nutritional information of products and suggested alternatives that have a healthier profile. SaltSwitch is a feature of the app that works in the same way as FoodSwitch but suggests lower salt alternatives. Salt is calculated from sodium (2.5) and is rounded to 1 decimal place.
Nutritional information has been collected for over 95,000 products, which we estimate represents over half of all UK grocery. We strongly encourage users to crowd source their favourite products using the App, and also to let us know if product data is different to that displayed, or the swaps are not helpful, via the feedback function. These changes will then appear in future updates to the App.
For more information please visit www.foodswitch.co.uk
The app is free, impartial and carries no advertising.
Ref 7 – CASH conducted a similar survey of salads in July 2005 and August 2010.
2005: http://www.actiononsalt.org.uk/news/surveys/2005/salad/index.html
2010: http://www.actiononsalt.org.uk/news/surveys/2010/Salads/index.html
Ref 8 - The Public Health Responsibility Deal Salt Reduction 2017 Pledge
https://responsibilitydeal.dh.gov.uk/pledges/pledge/?pl=49
The salt target for salads, which falls under ready meals and meal centres, is 0.63g salt/100g [average], and 0.95g salt/100g [max].