Technical Report: Crumpets
Action on Salt have today published a new technical report revealing the salt content of crumpets available in supermarkets, and potential solutions to reduce them in line with government recommendations. The report reveals the unnecessary levels of salt found in some of the UK's best-selling crumpets – with no change in over four years. one key player is failing to put the health of their customers first, and is ultimately holding others back from making further progress. The UK Government must now mandate the salt reduction targets as a key public health strategy to lower blood pressure and reduce the risk of strokes and heart disease, say Action on Salt.
Technical Report: Crumpets [PDF 666KB]
Crumpet Press Release [PDF 306KB]
Wh

at's the Deal?
Crumpets are a common household purchase in the UK, with recent data suggesting a 55% increase in sales during this year (1). However, salt intake is often overlooked in our diets and in many cases is added generously to the food we buy.
Adults eat on average 8.4g of salt per day (2), 40% more than the maximum daily recommended intake of 6g. Reducing salt intake is considered the most cost-effective strategy that can be adopted to improve population health outcomes (3). As such, the UK Government developed comprehensive voluntary salt reduction targets for over 80 different categories of food (4). Among them is crumpets (under morning goods), part of the broad 'bread' category, which is reported as one of the largest contributors of salt in our diet.
Progress within this category has been better than most, with the proportion of morning goods meeting the 2017 maximum salt target at 75% for manufacturers and 97% for retailers (5). But can they go further?
Key Findings

from our Report
Average salt content of crumpets is 1.15g/100g

Average salt content per portion* was 0.65g

89% (25/28) of crumpets meet the 2017 maximum salt reduction targets for morning goods (powder raised), 1.25g/100g

68% (19/28) meet the 2024 maximum salt reduction targets, 1.19g/100g
*per standard sized crumpet, excluding giant or thin crumpets if stated on packaging
The majority of crumpets have successfully achieved the 2017 maximum salt target for morning goods, and are on course to achieving the latest 2024 targets. As is often seen across many food categories, retailers have led the way in producing lower salt crumpets, averaging 1.1g/100g compared to branded crumpets at 1.28g/100g.
There is however, one notable company lagging behind: Warburtons.
How do Companies Compare?
Despite being called out for their high salt levels in 2016 (6), Warburtons continues to fail in reducing the salt content across its entire range of crumpets
A 20% reduction in salt by this leading British baking firm would bring them in line with the UK salt reduction targets (7) and would remove 109 tonnes of salt from the UK diet per year – equivalent to the weight of 9 double decker buses (8).
Their gluten-free crumpets have disappointingly increased in salt by more than a third (36%) since they were last surveyed in 2016 – making them the only company to not meet the expired 2017 maximum target (9). Morrisons Crumpets have also increased in salt since 2016 by 26%; no significant reductions have been made by any other company.
The level of salt varies across the different crumpets, meaning reductions are indeed possible; at 1.48g/100g Warburtons Crumpets contain 58% more salt than the least salty crumpet surveyed, Sainsbury's Taste the Difference Luxury Multiseed Sourdough Crumpets (0.94g/100). Both are exactly the same size at 55g per crumpet.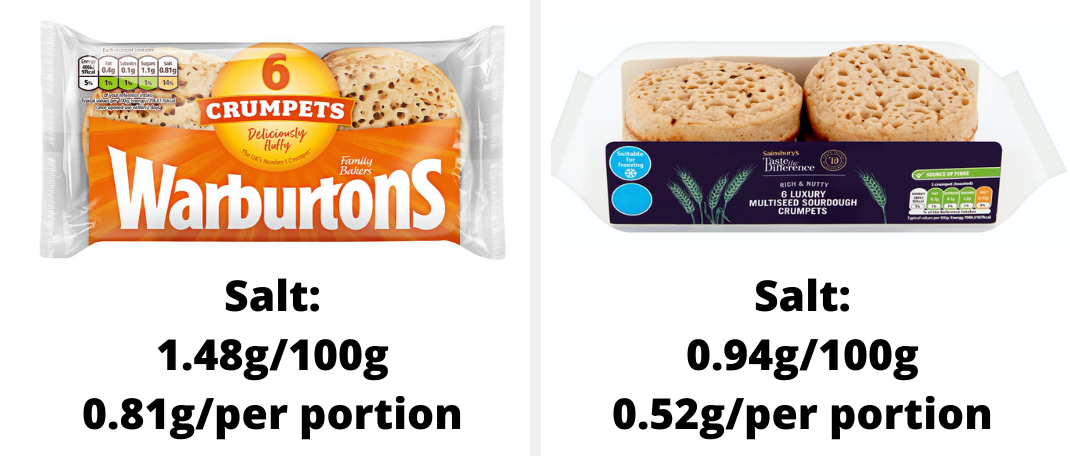 Salt Solutions
Total salt in crumpets can come from both added salt (sodium chloride) and raising agents (baking powder). As well as reducing the amount of added salt, low salt raising agents such as potassium bicarbonate can be used and are accepted by Public Health England as a suitable and safe alternative to salt (10). Over a third of crumpets surveyed have potassium labelled in their ingredients list. This, along with the variation in salt content seen across crumpets, clearly demonstrates that reductions in this category are technically possible.
With the planned dissolution of Public Health England (PHE) during 2021, rather worryingly no clear strategy has been confirmed by the Government with regards to who will take responsibility for driving the UK's salt reduction programme and saving lives.
Sonia Pombo, Nutritionist and Campaign Manager at Action on Salt says: "Our findings show a clear divide between the food companies that are actively trying to improve the nation's health and those that aren't. Three years on from the 2017 salt reduction targets, some companies are still failing to make meaningful reductions in salt, despite it clearly being achievable. With new targets now set for 2024, it's time they stopped dithering and started levelling up with the more responsible companies."
Zoe Davies, Nutritionist at Action on Salt adds: "Crumpets are a popular comfort food for both adults and children as increased sales indicate. But with added toppings they can quickly accumulate to half of our recommended maximum salt intake for the day (6g). To make crumpets a healthier choice, consider adding no added salt peanut butter or eating with scrambled egg to make one crumpet more substantial. This keeps you fuller for longer whilst keeping the salt content down. Alternatively, try topping with some fruit, such as sliced banana, which will help count towards the five a day many of us aren't achieving."
Professor Graham MacGregor, Professor of Cardiovascular Medicine at Queen Mary University of London and Chairman of Action on Salt says: "Reducing salt is the most cost-effective measure to lower blood pressure and reduce the number of people suffering from strokes and heart disease. Like with the recent and disappointing voluntary sugar reduction progress report issued by PHE, it's a scandal that certain manufacturers have still not made any progress in reducing the salt in their products. The Government must now mandate these targets to ensure a fair and level playing field."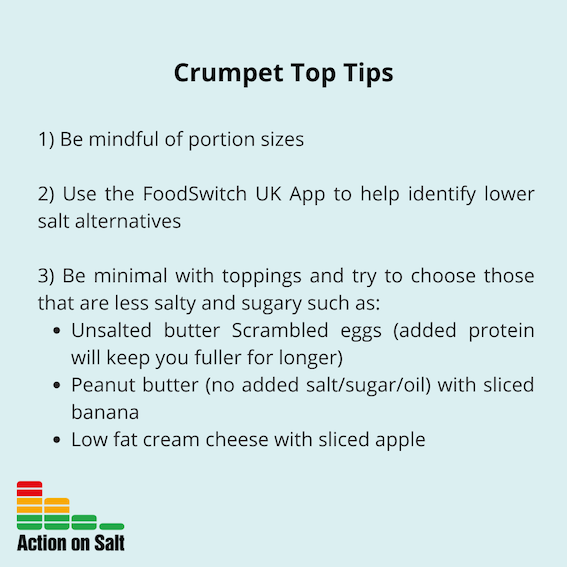 ---
References
https://www.express.co.uk/life-style/food/1275306/coronavirus-lockdown-most-popular-food-crumpets-chocolate-gravy

NDNS: assessment of salt intake in adults in England, 2018 to 2019 – report.

https://www.gov.uk/government/statistics/ndns-assessment-of-salt-intake-in-adults-england-2018-to-2019

World Health Organization. (2020). Salt reduction.

https://www.who.int/news-room/fact-sheets/detail/salt-reduction

PHE (2020). Salt reduction targets for 2024.

https://assets.publishing.service.gov.uk/government/uploads/system/uploads/attachment_data/file/915406/2024_salt_reduction_targets_070920-FINAL-1.pdf

PHE (2020). Salt targets 2017: Second progress report.

https://assets.publishing.service.gov.uk/government/uploads/system/uploads/attachment_data/file/915371/Salt_targets_2017_Second_progress_report_031020.pdf

Action on Salt 2016 crumpets survey

http://www.actiononsalt.org.uk/news/surveys/2016/crumpets/

Crumpets fall under the broader bread category of morning goods, powder raised, with a maximum salt target of 1.19g/100g. Salt reduction: targets for 2024

https://www.gov.uk/government/publications/salt-reduction-targets-for-2024

Warburton's report selling 700 million crumpets a year

https://www.warburtons.co.uk/news/article/crumpet-recipe-revealed

. If they reduced the salt content of their standard crumpet in line with the salt targets, that would be the equivalent of 108.85

tonnes

of salt removed from the nation's diet, the equivalent of 8.8 double decker buses

The London

Routemaster

double decker bus weighs 12.4 tons.

https://www.london.gov.uk/questions/2014/3600

Salt reduction: targets for 2017

https://www.gov.uk/government/publications/salt-reduction-targets-for-2017

SACN-COT statements on potassium-based sodium replacers

https://www.gov.uk/government/publications/sacn-cot-statements-on-potassium-based-sodium-replacers