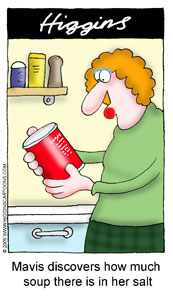 25 February 2010
Research finds lots of salt hidden in popular household brands
High street cafés are some of the worst offenders
Still a long way to go to meet the salt reduction targets
Click here for the highest and lowest products (Best and Worst Products [DOC 119KB] Soups survey full data [DOC 57KB])
For Media Coverage: Media coverage for Soup Survey
(use the tabs to navigate between full data sheet and each soup category)
Is your favourite soup still full of salt?
New research carried out by Consensus Action on Salt and Health (CASH) shows that many soups on sale in the UK, particularly some well known brands and those from popular high street café's, still contain high levels of salt [1].
Soup is often seen as a healthy light meal or snack alternative, and whilst the survey showed that progress has been made to reduce the salt in soups; 99% of the surveyed soups contain more salt per portion than a packet of crisps [2], a quarter individually still fail to meet the 2010 Food Standards Agency average voluntary targets [3] and only 6% can be labelled 'green' based on the traffic light labelling system [4].
CASH surveyed 575 ready to eat soups including fresh (chilled), ready to eat (canned and pouches) and high street chain café soups [5] and included both branded and supermarket own-label products from Tesco, Sainsbury, Asda, Morrison's, Waitrose, Marks & Spencer, Somerfield and The Co-operative/Somerfield as well as soups available in the larger high street cafés EAT., Caffe Nero and Pret A Manger.
The highest average levels of salt were found in the high street café's takeaway soups, with astoundingly high salt levels found in some products from EAT., a national chain of 98 shops. In total, 10 products from EAT were found to contain more salt than the current daily maximum recommendation of 6g salt per day. The highest level of salt found was in the Eat. Very Big Soup Bold Thai Green Chicken Curry, containing 8.070g salt per 32 oz/907g portion, the same amount of salt as nearly three Big Mac and Fries [6]. Although they offer very large portions, even the Bold Green Chicken Curry soup in the smallest available size (12oz / 340 g) contains 2.815g/portion, nearly half of the daily recommendation and still more than a Big Mac and Fries. The highest standard sized high street café takeaway soup found was the Caffe Nero Organic Carrot & Coriander soup, at 3.6g per portion, over three and a half times more salty than the lowest café takeaway soup, a Malaysian Chicken Soup from Pret A Manger at 1.0g per portion.
Amongst the fresh soups available in supermarkets, the highest product contains as much salt as nearly 5 packets of crisps; New Covent Garden Scotch Broth (2.4g/300g portion) which contains 6 times more salt than the lowest, Tideford Organics Moroccan Vegetable (0.44g/300g portion).
Since CASH last surveyed soups in 2007, there has been a 17% reduction of salt per 100g soup in the ready to eat ranges. However high levels of salt are still found in big household name brands such as Batchelors Soupfulls Classic Beef and Vegetable (3.00g/400g portion) and Heinz e.g. Heinz Taste of Home Lancashire Lamb Hotpot (2.6g/430g portion).
As usual, it is the supermarkets that are coming out lowest in most cases, and it is the major brands that are lagging behind. In total there are 23 products available in supermarkets which contain 2g or more salt per portion, 18 of these are from brands including Heinz, New Covent Garden and Batchelors. The 10 lowest salt ready to eat soups (for both portion and by 100g) were supermarket own brands including Morrison's Chicken Noodle soup (0.5g/200g portion) and ASDA Good For You Tomato & Basil soup (0.5g/200g portion), which are 16 times lower than the Eat. Bold Very Big Soup Thai Green Chicken Curry per portion. The supermarkets meet 2010 targets in 93% of cases, while the branded products are trailing with only 66% meeting targets.
Huge variations were found in soups with similar flavours. Some healthier alternative include swapping Batchelors Soupfulls Classic Beef & Vegetable (3.00g/400g portion) for ASDA Chilli Beef Mighty Soup (1.1g/200g portion) saving 1.9g of salt, swapping The Yorkshire Provender Onion Soup with Hambleton Ale and Mustard (2.31g/250g portion) for Waitrose French Onion & Cider soup (0.76g/207g portion), saving 1.55g of salt or substituting Marco Pierre White's brand Glorious! Moroccan Tomato & Chickpea soup (2.1g/300g portion) for Tideford Organics Moroccan Vegetable soup (0.4g/300g portion) to save 1.66g salt.
Comparing the amount of salt in a serving of soup bought in a supermarket is complicated by the fact that different products have widely different recommended portion or pack sizes, ranging from 200g if half a can is eaten, up to 600g if a whole tub of soup is eaten. People need to be aware that the salt per serving given on the label might not be how much they actually eat.
Furthermore, most people will eat their soup as a snack or as part of a meal, often with a sandwich or bread, which will add further to the salt content of the meal. Two slices of bread contains an average of 0.8g of salt, therefore consuming an average supermarket bought soup (1.3g salt per portion) with two slices of bread will provide at least 2.1g salt, which is over a third of an adult's daily limit. The latest National Diet Nutrition Survey (NDNS), published earlier this month [7] showed that bread is still the greatest contributor of salt to our diet, across all age groups.
"People tend to think salt is only in crisps, snack and ready meals" said Katharine Jenner, Nutritionist and CASH Campaign Manager. "But this survey shows huge amounts of salt can be hidden in seemingly healthy choices such as soup. While there are still soups being manufactured with really high levels of hidden salt, it is hard for us to cut down our salt intake to less than 6g of salt a day from the current average of 8.6g a day [8]. We urge manufacturers to reduce their salt content immediately."
"In general, the café style takeaway soups tend to be saltiest, whereas the fresh soups tend to be lower in salt." says Hannah Brinsden who carried out the research for CASH. "If you are concerned about how much salt you eat try to avoid soups containing high salt ingredients such as bacon, cheese and chorizo and instead choose vegetable and tomato based ones. The best option however would be to make your own at home"
"It is the very high levels of salt that are put in our food that leads to thousands of unnecessary stroke and heart deaths, Furthermore there is increasing evidence that salt intake is linked to stomach cancer, osteoporosis, obesity and kidney stones and kidney disease" says Professor Graham MacGregor, Barts and The London School of Medicine and Dentistry, and Chairman of CASH. "The majority of the food industry is slowly taking out the salt from food, including these soups. We commend the progress so far; however they haven't gone far enough if we are to save the maximum number of lives. This survey shows that some companies are not cooperating, the public should boycott these products so we don't have to resort to legislation".
References:
Ref 1 Summary tables can be found below. A Word file with the full survey details should be attached with this release. If it is missing, you have problems opening the file or would like the full Excel dataset, please contact Katharine Jenner or Hannah Brinsden on the numbers above.
Ref 2 A standard 34.5g packet of Walkers Ready Salted crisps contains 0.5g of salt
Ref 3 The 2010 FSA average target for soup is 0.6g of salt per 100g.
Ref 4 The criteria for each colour on the FSA traffic lights are as follows. Green ≤ 0.30g/100g, Amber >0.30 to ≤ 1.50g/100g, Red > 1.50g/100g or >2.40g/portion.
Ref 5 566 wet soups were included in this survey – Including fresh, ready to eat and condensed soups. Instant soups were excluded.
Ref 6A Big Mac(2.1g salt/portion) and Medium Fries (0.6g salt/portion) totalling 2.7g from McDonald's as per McDonald's website.
Ref 7 Bread contributes 19% of an average adult's daily salt intake according to NDNS. The full results from the first stage are available from the FSA website http://www.food.gov.uk/science/dietarysurveys/ndnsdocuments/ndns0809year1
Ref 8 The current average salt intake of the UK population is 8.6g a day (Source. Food Standards Agency)