Meat Alternatives Survey 2018
Action on Salt Expose Excessive Amounts of Salt in 'Healthy' Processed Meat Alternatives and Demand URGENT Action from Public Health England
28% of all products surveyed are higher in salt than their MAXIMUM salt targets - due to be met by 31st December 2017
Meat free burgers contain on average more salt than meat burgers (0.75g/serve v 0.89g/serve)
Tofurky's Deli Slices Hickory Smoked and Tesco's Meat Free 8 Bacon Style Rashers contain much more salt per 100g than seawater
20% of products have no front of pack colour-coded labelling, including Linda McCartney's entire product range
Action on Salt demands Public Health England acts NOW to prevent thousands of unnecessary deaths from stroke and heart disease
A NEW nationwide product survey1 by Action on Salt, the expert group based at Queen Mary University of London, has exposed the perceived 'health halo' of processed meat alternatives, including meat free burgers, sausages and mince, which are concealing high levels of salt.
Shockingly, 28% of ALL products surveyed are higher in salt than their MAXIMUM salt targets2, which were due to be met by 31st December 2017! This reaffirms how ineffective the voluntary salt targets are due to complete lack of monitoring and guidance from Public Health England.
The saltiest products in the survey - Tofurky's Deli Slices Hickory Smoked and Tesco's Meat Free 8 Bacon Style Rashers – both contain much more salt per 100g than seawater3 (3.5g/100g and 3.2g/100g respectively).
In fact, of the 157 supermarket meat alternative products surveyed, the highest average salt content per 100g was found in meat free bacon (2.03g/100g) and meat free sliced meat (1.56g/100g). Per portion, on average vegetarian kievs were the saltiest (1.03g) – saltier than a large portion of McDonald's fries4 - followed by meat free sausages (0.96g) and, surprisingly, plain meat-free pieces and fillets (0.87g) – as salty as three portions of salted peanuts5!
Action on Salt last surveyed vegetarian alternatives in 2008 and while the average salt content per 100g has decreased for both meat-free sausages and meat-free burgers, the average salt content per portion of meat-free burgers has increased from 0.80g to 0.89g.
MEAT VERSUS VEGGIE ALTERNATIVE
Whilst many of us believe that meat free alternatives are the 'healthy' option, Action on Salt's survey of real beef burgers from leading retailers including Tesco, Sainsbury's and Asda has revealed that their average salt content per serving - 0.75g - was LOWER than that of meat free burgers at 0.89g per serve– saltier than a portion of salt and vinegar crisps6!
Regardless of Action on Salt highlighting in 20177 that certain vegetarian sausages have as much salt as the saltiest meat sausages, Quorn's 4 Best of British Sausages with 1.9g/100g still remain THE saltiest vegetarian sausages available – providing more than 2g salt (2.2g) per 2 sausages.
Furthermore, 32 of the 154 (20%) products included in the survey had no front of pack colour-coded labelling including Linda McCartney's entire product range. Disappointingly, only three of all products surveyed were low in salt with 0.3g per 100g or less. Around a fifth (18%) of products also have no portion size, making it hard for consumers to judge how much of a product they should eat and gauge their daily salt intake.
COMPARISONS
As Action on Salt has consistently shown in all product surveys, there is a large variation in the salt content of products within the same category. Most meat-free categories had at least a 50% difference in salt content between the saltiest and least salty products – meat-free mince had the biggest variation with an 83% difference.
This once again highlights that it is very easy to make products with less salt and so ALL manufacturers should aim to reduce salt in their products, not just the responsible few.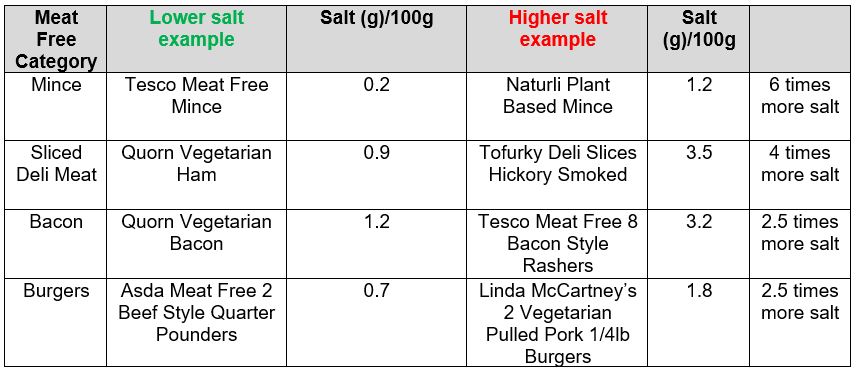 Mhairi Brown, Nutritionist at Action on Salt, explains, "Research8 has highlighted that we must reduce the amount of meat we eat to reduce the negative impact of climate change. The food industry have ensured greater availability of meat-free alternatives, but now they must do more to ensure that meat free alternatives contain far less salt - at the very least lower than their meat equivalents. This survey drives home the urgent need for Public Health England to reinvigorate the UK's salt reduction strategy."
Graham MacGregor, Professor of Cardiovascular Medicine at Queen Mary University of London and Chairman of Action on Salt, adds: "Reducing salt is the most cost-effective measure to reduce the number of people dying or suffering from entirely unnecessary strokes and heart disease. Given the vast amounts of strokes and heart disease that could be avoided and huge savings to the NHS, it is incomprehensible that Public Health England are not doing more to reduce the amount of salt in our food. We are AGAIN calling on PHE to take urgent action."
PUBLIC HEALTH ENGLAND MUST ACT NOW
The UK's salt reduction programme, devised by Action on Salt and the Food Standards Agency, was very successful and has been copied by numerous countries around the world. The programme slowly lowered the amount of salt added to foods without the consumer being aware, leading to a fall in population salt intake of 1.5g per day since 2003.
Every 1g reduction in salt intake prevents 7,000 deaths, 4,000 of which are premature, from strokes and heart disease9 and NICE (National Institute for Health and Care Excellence) has shown that each gram reduction saves the NHS £1.5 billion10. In 2016, PHE assumed responsibility for the UK's salt reduction programme. However, two and a half years later there has been little action, no progress report on the 2017 salt targets and no announcement of salt reduction plans for 2018 and beyond – even though the UK's salt intake is much higher than the recommended daily limit of 6g per day. Therefore, it is VITAL that PHE take urgent action to prevent further unnecessary deaths.
Prof Louis Levy, head of nutrition science at Public Health England, said salt consumption had fallen over the last decade "but there is still a long way to go, as some foods still contain too much salt. Government has been clear with the food industry on the importance of meeting the 2017 salt targets. Since taking over salt reduction, PHE has been collecting data on industry's progress and we'll report later this year as planned."
A spokesperson for Quorn said: "Quorn produces a range of sausages, with its bestselling Quorn sausages being low in salt and highlighted on the front of pack. The salt content is 1.2g per 100g for 336g of Quorn frozen sausages and 1.1g per 100g for 250g Quorn chilled sausages, making both options a healthy source of protein. Quorn's Best of British Sausages offer slightly more indulgent sausages. Whilst they are higher in salt, as clearly marked on the pack, they are still low in saturated fat. We review all our product recipes on an ongoing basis to ensure we are achieving what our consumers want in terms of taste and health credentials."
Heather Russell, Dietitian at The Vegan Society said: "Well-planned vegan diets feature health-promoting plant foods like whole grains, fruit, nuts, seeds and vegetables, and exclude animal products like processed meat, which the World Health Organization has classified as a cause of cancer. It's important to be aware that some of the plant-based alternatives to meat currently available are salty. Look after your heart by using food labels to keep an eye on salt content and choosing lower salt everyday sources of protein like canned beans and chickpeas in water, red split lentils, pure peanut butter, unsalted nuts, pumpkin seeds, the dry variety of soya mince, and plain tofu, which can be seasoned using spices."
TOP TIPS
Download the FoodSwitch app to find healthier alternatives http://www.actiononsalt.org.uk/foodswitch/
Lower salt options do exist, so make sure you check the label for salt and use FoodSwitch to find the healthier meat alternatives
Try making your own vegetarian or vegan burger with beans http://www.actiononsalt.org.uk/less/recipes/mains/burger-vegetable/
Try adding natural protein ingredients to meals such as lentils, beans, eggs, cheese or plain tofu instead of relying on processed vegetarian alternatives to meat
Choose accompaniments carefully – try to avoid salty cheeses, pickles and sauces with burgers, and choose lower salt sauces or gravy with sausages
ENDS
National PR – David Clarke: david@rock-pr.com M: 07773 225516
Website: http://www.actiononsalt.org.uk
Twitter: @actiononsalt #LessSalt #6ways6grams
Notes to editors:
About Action on Salt
Action on Salt is a group concerned with salt and its effects on health, supported by 24 expert scientific members. Action on Salt is successfully working to reach a consensus with the food industry and Government over the harmful effects of a high salt diet, and bring about a reduction in the amount of salt in processed foods as well as salt added to cooking, and at the table.
In the early 2000's the UK pioneered a salt reduction strategy with the Food Standards Agency and Action on Salt with the setting of incremental salt targets, so that the food industry was slowly reducing the huge and unnecessary amounts of salt they add to food. This resulted in a fall in UK population salt intake, a fall in average blood pressure and more than 12,000 lives have been saved from preventing strokes and heart disease. However in 2010 responsibility for salt reduction was switched to the Department of Health and the food industry was made responsible for policing itself, a policy that unsurprisingly failed. Further salt reduction targets were set to be achieved by the end of 2017 but little action has been taken to ensure the food industry is meeting these targets. PHE are now responsible for the UK salt reduction programme but so far have done little or nothing. All of the above has meant that the salt reduction programme has been slowed down with the result that many thousands of people have died unnecessarily and huge and unnecessary costs have been incurred by the NHS. Salt is the forgotten killer; the time has come for PHE to allocate sufficient resources to immediately resuscitate the UK salt reduction programme.
References
Action on Salt surveyed all meat free alternatives (both vegetarian and vegan products) that would typically be eaten as part of a meal. Meat free sausages, burgers, mince, pieces and fillets, sliced meat, pies and bakes were included. Vegetarian and vegan ready meals were excluded. Nutrition data for all available meat alternatives, totalling 157 products, were collected w/c 3rd September 2018 from product packaging in Aldi, Asda, Iceland, Lidl, Marks & Spencer, Morrison's, Sainsbury's, Tesco, The Cooperative and Waitrose. In addition, nutrition data for all available beef burgers, totalling 37 products, were collected in September 2018 from product packaging in Asda, Sainsbury's and Tesco.
Public Health England have issued guideline salt targets for over 80 categories of food, including sausages, which the food industry are encouraged to follow on a voluntary basis. As it currently stands, there is little monitoring and many companies chose to abstain. Mandatory targets would create a level playing field for the industry.
https://www.gov.uk/government/uploads/system/uploads/attachment_data/file/604338/Salt_reduction_targets_for_2017.pdf
Atlantic seawater contains 1.0g of sodium per 100g, which equates to 2.5g of salt per 100g
A large portion of McDonald's fries contains 0.82g per portion https://www.mcdonalds.com/gb/en-gb/good-to-know/nutrition-calculator.htm
Sainsbury's Jumbo Salted Peanuts contain 0.29g of salt per portion https://www.sainsburys.co.uk/shop/gb/groceries/sainsburys-jumbo-salted-peanuts-550g
Salt and Vinegar flavour Pringles contain 0.69g salt per 30g portion https://www.tesco.com/groceries/en-GB/products/296734905
Action on Salt surveyed the salt content of all meat and vegetarian sausages (both fresh and frozen) in September 2017 http://www.actiononsalt.org.uk/salt-surveys/2017/sausages-/
Springmann, M., Clark, M., Mason-D'Croz, D., Wiebe, K., Bodirsky, B.L. et al. Options for keeping the food system within environmental limits. Nature, 2018, 1467-4687 https://doi.org/10.1038/s41586-018-0594-0
Department of Health. Public health responsibility deal. F9. Salt reduction 2017. https://responsibilitydeal.dh.gov.uk/pledges/pledge/?pl=49.
NICE Guidance on the prevention of cardiovascular disease at the population level, 1g reduction led to more than 6,000 strokes and heart attacks prevented, and £1.5 billion healthcare savings, June 2010. National Institute for Health and Care Excellence (NICE). Guidance on the prevention of cardiovascular disease at the population level. http://guidance.nice.org.uk/PH25