Wednesday 6th December 2017
CASH slams failure by many companies to reduce salt despite three weeks to go to reach the 2017 salt targets
Eating a sausage sandwich for breakfast could provide more salt than a double cheeseburger and large fries [1,2]
Veggie sausages can contain more salt than half a Pizza Hut Margherita Pizza [3]
Children could be eating two thirds of their maximum recommended daily intake of salt from just 2 sausages [4]
CASH calls for Public Health England to get tough on the food industry and set new mandatory targets for 2020
For full data: Sausages Survey 2017 - Full Data [PDF 459KB]
For Media Coverage: Sausages Media Coverage
NEW research by Consensus Action on Salt and Health (CASH) based at Queen Mary University of London [5] has exposed the shocking and excessively high amounts of salt in certain sausage brands. By starting the day with a sausage sandwich you could be eating nearly two thirds of an adult's maximum daily recommended intake (6g salt) [2] – more salt than a Double Cheeseburger and large Fries [1]!

The British public eat more than 175,000 tonnes of sausages each year [6], which amounts to a staggering 61g of salt per person, the equivalent of 134 packets of ready salted crisps [7].
The survey, conducted using the new and updated FoodSwitch UK app, found that the average salt content of sausages sold today is 1.3g/100g, or 1.16g of salt per two sausages – a figure that has remained relatively unchanged since 2011, exceeding the salt reduction targets in place at that time [8]. As the 2017 voluntary salt targets set by Public Health England are due to be met in just three weeks' time, CASH is calling for mandatory salt targets to be set, as the food industry has failed to protect the public's health voluntarily [9].
The worst offender is Richmond, whose full range of sausages tops all other manufacturers for salt. In fact, the salt content of their sausages has remained consistently high since at least 2011, suggesting that they have made no effort to reduce salt in their sausages [10].
Examples of sausages high in salt per 100g as per label:

The research found huge variation in salt levels across all sausages, from the highest at 2.3g/100g (Richmond 12 Skinless Pork Sausages) to the lowest at 0.75g/100g (The Co-operative Irresistible 6 Sweet Chilli Sausages) – a massive three-fold difference in salt content per 100g! The survey also found large variations within supermarket own-brand sausages - the saltiest variety sold by ASDA (Extra Special 6 Bacon & Maple Syrup Pork Sausages, 1.1g per sausage) had more than double the salt per sausage of ASDA's least salty variety (Extra Special 6 Lincolnshire Pork Sausages, 0.45g per sausage) [11]. This clearly demonstrates that making sausages with less salt is possible and could be achieved by ALL manufacturers, not just the responsible few.
Examples of sausages containing 1g or less per 100g as per label:
*packaging states values for raw form of product. All other values are for cooked form
Going meat free isn't always healthier in terms of salt either; some vegetarian options are just as salty. Quorn's 4 Best of British Sausages have a whopping 1.9g salt/100g dishing up 2.2g salt in 2 sausages – that's more salt than half a Pizza Hut Margherita Pizza! [3]
As well as being high in salt, sausages also score badly for saturated fat (saturates), another contributing factor to strokes and heart disease. Eighty five per cent of meat sausages surveyed by CASH were high in saturates (>5g/100g), with a wide variation ranging from 0.4g/100g to 11.1g/100g: a 96% difference!
Incredibly, Sainsbury's Taste The Difference Toulouse Inspired British Pork Sausages contain a shocking 12.2g of saturated fat per portion (2 sausages), which is more than half of the recommended daily maximum intake of saturated fat for women [12], and also contain more than a gram of salt per portion.
Whilst eight out of ten products had colour coded front of pack labelling, allowing customers to see at a glance how much salt and saturates are in their favourite products, the biggest brands – including Richmond, Wall's and Iceland, fail to provide this, and also have a portion size as '1 sausage', which is completely unrealistic. CASH have produced a free App, FoodSwitch, which allows customers to scan the barcodes of their shopping to see the 'traffic light colours', and make a healthier choice.
Mhairi Brown, Assistant Nutritionist at CASH says: "This survey really exposes how dangerously salty most sausages are, as children could be eating at least 2g of salt from a meal that contains just two sausages! Eating too much salt in childhood increases our blood pressure, which then tracks into adulthood and is the main cause of strokes and heart disease. The food industry must do more to reduce salt in family-favourite foods, and help protect our health"
Sonia Pombo, Nutritionist and Campaign Manager at CASH explains: "So far we have seen very little evidence that the latest set of voluntary salt targets have been achieved, despite the impending deadline this month. Therefore strict monitoring and tougher regulation from the government must be implemented. Based on the latest recommendations from SACN, supporting the use of potassium based salt replacers as a potential way to help reduce sodium in food [13], the government should now encourage companies to explore the use of potassium (a mineral found naturally in fruit, vegetables other foods) in sausages and help reduce the nation's blood pressure."
Professor Graham MacGregor, Professor of Cardiovascular Medicine at Queen Mary University of London and Chairman of CASH adds: "The UK has led the world on salt reduction but this survey clearly shows that many companies are not cooperating with the current voluntary policy. Public Health England, who is now responsible, must get tough on those companies not complying and set new mandatory targets to be achieved by 2020 without further delay. Otherwise, thousands of people will die from unnecessary strokes and heart attacks every year. Salt reduction is the most cost-effective and most successful public health preventive measure made to date, and it is a national tragedy that it is being allowed to fail."
Dr Alison Tedstone, Public Health England's Chief Nutritionist, said: "Our salt consumption has decreased over the last decade - a loaf of bread has forty per cent less than it used to. However, some products are still too high in salt and we know this can be reduced further. We've been very clear with the food industry on the importance of meeting the 2017 salt targets. We'll report on their progress next year and will provide advice to government on the next steps."
Iceland said: "Iceland 8 Jumbo Pork Sausages are clearly marketed via the product packaging as a single serving sausage in a bun. It is the length of 2 standard Iceland sausages. It is disappointing to compare this jumbo size of pork sausage against other considerably smaller products in the market place. Iceland cooked nutrition information is declared on product packaging, rather than raw, to provide more meaningful information for our customers"

Quorn said: "Quorn produces a range of sausages, with its bestselling Quorn Sausages (https://www.quorn.co.uk/products/meat-free-sausages) being low in salt and highlighted on the front of pack. The salt content is 1.2g per 100g for 336g of Quorn frozen sausages and 1.1g per 100g for 250g Quorn chilled sausages, making both options a healthy source of protein. The range featured by CASH is Quorn's Best of British Sausages which offers slightly more indulgent sausages. Whilst they are higher in salt, as clearly marked on pack, they are still low in saturated fat"
Debbie Kebble, Heck co-founder, said: "Our focus has been on lowering fat content without compromising taste but we have now turned our attention to salt and you will see this reducing over time to meet government guidelines, as we replace our packaging. We have been exploring other ways to take out the salt, such as using miso, but have decided against using it in our sausages as it is an allergen."

ASDA said: "Our range of sausages is compliant with the Government's salt guidelines, but our customers probably won't be surprised to discover that our bacon and maple syrup sausages have a slightly higher salt content than average. However, we're pleased that the report also shows that we also offer two of the least salty sausages in this study – meaning whatever their tastes, our customers can find a banger to suit at Asda"

*ENDS*
National PR – David Clarke: david@rock-pr.com M: 07773 225516
Website www.actiononsalt.org.uk
Tweet #LessSalt https://twitter.com/cashsalt
Notes to editors:
FoodSwitch UK is a free smartphone app that enables consumers to make healthier and smarter food and drink choices – now newly updated with an improved design and nutrition information given per portion - to put consumers in control whilst out shopping. FoodSwitch UK allows users to scan the barcode of over 100,000 packaged food and drinks sold across major UK supermarkets using their smartphone camera to receive immediate, easy-to-understand 'traffic light' colour-coded nutritional information along with suggested similar, healthier products.
When the barcode of a food or drink product is scanned by a smartphone, FoodSwitch UK instantly searches its database and identifies healthier products by comparing the overall nutritional value of the product based on well researched existing criteria. The overall nutritional rating takes into account a range of different factors important to general health including fats, sugars, salt, protein and fibre. The app, developed by leading UK nutrition research experts and led by The George Institute for Global Health in partnership with CASH, carries no advertising and is supported by 16 health and charitable organisations including Public Health England, Stroke Association and Heart UK.

About CASH
Consensus Action on Salt and Health (CASH) is a group concerned with salt and its effects on health, supported by 25 expert scientific members. CASH is successfully working to reach a consensus with the food industry and Government over the harmful effects of a high salt diet, and bring about a reduction in the amount of salt in processed foods as well as salt added to cooking, and at the table. In the early 2000's the UK pioneered a salt reduction strategy with the Food Standards Agency and CASH with the setting of incremental salt targets, so that the food industry was slowly reducing the huge and unnecessary amounts of salt they add to food. This resulted in a fall in UK population salt intake, a fall in average blood pressure and more than 12,000 lives have been saved from preventing strokes and heart disease. However in 2010 responsibility for salt reduction was switched to the Department of Health and the food industry was made responsible for policing itself, a policy that unsurprisingly failed. Further salt reduction targets were set to be achieved by 2017 but little action has been taken to ensure the food industry is meeting these targets. PHE are now responsible for the UK salt reduction programme but so far have done little or nothing. All of the above has meant that the salt reduction programme has been slowed down with the result that many thousands of people have died unnecessarily and huge and unnecessary costs have been incurred by the NHS. Salt is the forgotten killer; the time has come for PHE to allocate sufficient resources to immediately resuscitate the UK salt reduction programme.
[1] A McDonald's cheeseburger contains 2.4g per portion and a large portion of fries contains 0.82g per portion. 3.22g salt in total https://www.mcdonalds.com/gb/en-gb/good-to-know/nutrition-calculator.html
[2] The saltiest product per sausage is Iceland's Jumbo Pork Sausages, containing 1.28g salt per sausage. Consuming 2 would total 2.56g. Added to 2 slices of white bread (0.72g), 15g tomato sauce (0.3g) and 10g butter (0.2g) = 3.78g  63% of an adult's maximum recommended daily intake (6g/day)
[3] A Pizza Hut Individual Pan (9 inch) Margherita Pizza contains 0.96g salt per 100g. A total pizza weighs 408g (6 slices) and contains 3.92g salt. Half a pizza (204g/3 slices) contains 1.96g salt
https://www.pizzahut.co.uk/restaurants/r/globalassets/price-bands/nutrition-documents/nutritionals-sep-17.pdf
[4] The maximum recommended daily intake of salt for a child aged 4-6 years is 3g https://www.gov.uk/government/uploads/system/uploads/attachment_data/file/338782/SACN_Salt_and_Health_report.pdf
[5] Data was collected for 212 chilled, frozen, vegetarian and meat sausages in all major supermarkets (Aldi, Asda, The Co-operative, Iceland, Lidl, Marks & Spencer, Morrisons, Sainsbury's, Tesco and Waitrose). Sausage products such as sausage rolls, cocktail sausages and Frankfurters were excluded from this survey. Product data was collected in store from product packaging using the FoodSwitch Data Collector App on the week commencing 11th September 2017. Nutrient information per portion, where not quoted on pack, was calculated from per 100g data and the recommended serve size where this was stated.
[6] During the year to August 2016, the nation consumed 175,713 tonnes of sausages in the home, (https://www.lovepork.co.uk/how-to-cook-pork/sausages/sausage-facts/). The UK population in 2016 was 65,648,000 (https://www.ons.gov.uk/peoplepopulationandcommunity/populationandmigration/populationestimates/bulletins/annualmidyearpopulationestimates/latest), therefore on average people were consuming 2.68kg sausage each/year. If people were to have consumed the saltiest sausage per 100g currently on the market (Richmond skinless pork sausages, 2.3g/100) that would equate to 61.64g salt/year from sausages alone.
[7] A standard 32.5g packet of Walkers Ready Salted Crisps contains 0.46g of salt (8% of the daily maximum recommendation of salt) https://www.walkers.co.uk/crisps-range/walkers-crisps/ready-salted
[8] CASH previously carried out a similar survey looking at sausages sold in supermarkets in 2011, and found average salt content to be 1.4g/100g http://www.actiononsalt.org.uk/news/surveys/2011/Sausages/index.html
[9] Public Health England have issued guideline salt targets for over 80 categories of food, including sausages, whereby the food industry are encouraged to follow on a voluntary basis. As it currently stands, there is little monitoring and many companies chose to abstain. Mandatory targets would create a level playing field for the industry.
https://www.gov.uk/government/uploads/system/uploads/attachment_data/file/604338/Salt_reduction_targets_for_2017.pdf
[10] Richmond sausages surveyed both in 2011 and 2017 show minimal change in salt content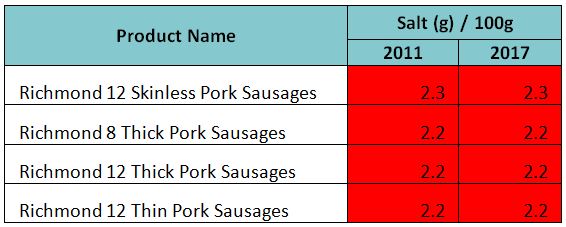 [11] Below are examples of supermarket own sausages with the highest and lowest salt content per sausage, which demonstrates that retailers are able to produce sausages containing less salt:
*packaging states values for raw form of product. All other values are for cooked form
[12] Women are recommended to eat a maximum of 20g saturated fat per day https://www.nutrition.org.uk/attachments/article/234/Nutrition%20Requirements_Revised%20Oct%202016.pdf
[13] A joint report from the Scientific Advisory Committee on Nutrition (SACN) and Committee on Toxicity (COT) found that the government should encourage the food industry to consider the use of potassium-based sodium replacers to reduce the sodium content of food https://www.gov.uk/government/uploads/system/uploads/attachment_data/file/660526/SACN_COT_-_Potassium-based_sodium_replacers.pdf