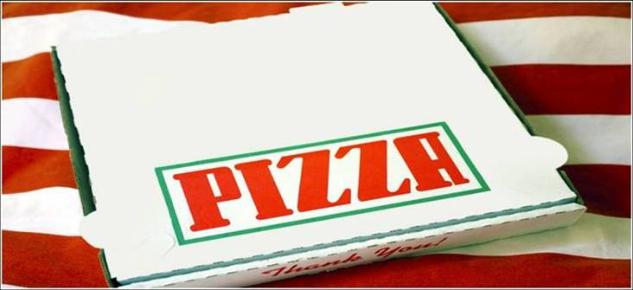 Monday 26th March 2012
Takeaway pizzas contain up to two and a half times more salt than the average supermarket pizza
A local pizzeria in London was found to be selling a pizza saltier than sea water
Half of all the takeaway pizzas surveyed contain your entire daily salt recommendation per pizza
Pizza Express supermarket pizza contains almost half the salt of the takeaway version
Less than 1 in 5 supermarket pizzas are 'high' in salt, as many as 2 in 3 are 'high' in saturated fat
Data for Press - All data [PDF 330KB]
For Media Coverage: Pizza Survey Media Coverage
What is being done to help takeaway outlets sell healthier food?
Why not try making your own pizza this weekend? (BROKEN LINK!!!!)
-- Press release --
New research by Consensus Action on Salt and Health (CASH) and the Association of London Environmental Health Managers (ALEHM) [1] for Salt Awareness Week 2012 reveals massive differences in the salt and fat content between takeaway pizzas and those purchased from supermarkets. Salt Awareness Week 2012 (26th March – 1st April) is highlighting that a diet high in salt can lead to raised blood pressure, tripling the risk of having a stroke [2]. As 75% of the salt we eat is hidden in our food, CASH are urging manufacturers to stop hiding salt, and fat, in our food.
"It is surprising there is still so much salt hidden in every day foods" says Katharine Jenner, Campaign Director of CASH. "It should be up to us how much salt we eat, but whilst there is so much salt in our food, people are unable to choose a healthier diet and are therefore putting themselves at risk of a stroke. This is why we are highlighting hidden sources of salt in our food for Salt Awareness Week. "
The survey, which is the most comprehensive yet, looked at 199 margherita and pepperoni pizzas, analysed from local takeaways, pizza chains and leading supermarkets across the country [3], and showed takeaway pizzas were the highest in salt, containing up to two and a half times more salt than the average supermarket pizza (2.73g vs. 1.08g salt/100g). One takeaway pizza outlet [Adam & Eve] was found to be selling a pizza saltier than sea water, containing a huge 2.73g per 100g! [4]
Top 5 saltiest takeaway pizzas:
1. The Adam & Eve Pepperoni Pizza (Barnet) - 2.73g salt per 100g (10.57g per 388g pizza)
2. La Vera Italia Pepperoni Pizza (Wandsworth) - 2.43g salt per 100g (10.68g per 439.6g pizza)
3. Ciao Bella Pepperoni Pizza (Havering) - 2.21g salt per 100g (9.22g per 417.4g pizza)
4. Ciao Bella Margherita Pizza (Havering) – 2.13g per 100g (7.69g per 361.8g pizza)
5. Il Mascal Zone Pepperoni Pizza (Barnet) - 2.08g salt per 100g (9.21g per 443g pizza)
Shockingly, half of all the takeaway pizzas surveyed contain your entire 6g maximum daily recommendation for salt per pizza. Even worse, if you were to eat an entire pepperoni pizza from 'The Adam & Eve' or 'La Vera Italia', you would be consuming more than 10g of salt.
"It's a national disgrace that our health is put at risk; the government is not taking enough action to reduce the amount of salt in the takeaway sector. The supermarkets have made the same pizzas with much less salt – showing how easy it would be for the whole sector to make big salt reductions" says Professor Graham MacGregor, Wolfson Institute, Chairman of CASH. "Salt puts up our blood pressure – the highest risk factor for stroke. Reducing our intake would save thousands of people suffering and dying from a stroke."
Not only do takeaway pizza businesses have dangerous levels of salt in their pizzas, they don't have to provide any form of nutritional labelling, meaning that consumers are unable to easily choose lower salt options. Thankfully where labelling is compulsory, in the supermarkets, 8 out of 10 pizzas (85%) provided some form of front of pack nutrition information, which is great for customers that want to choose a healthier diet. The salt reduction targets [5] are easily achievable; three quarters of the supermarket pizzas (72%) currently meet the salt target, whereas only less than a fifth (16%) of takeaway pizzas do.
Many supermarkets have made great progress in removing salt from their pizzas, for instance, Morrison's had 5 of the 10 lowest salt own-brand pizzas surveyed [6]. However despite containing a third less salt on average compared to takeaways (1.08g/100g compared to 1.57g/100g), many supermarket pizzas are still classified as 'unhealthy' [7]; none of the surveyed supermarket pizzas were found to be 'green' (low) in salt, fat or saturated fat.
In fact, whilst less than one in five (16%) supermarket pizzas would get a 'red' (high) traffic light label for salt, two in three (69%) would get a 'red' for saturated fat, showing there is still progress to be made. The government has called for trans fats should be removed from all food by the end of 2012, yet four out of five (84%) of the takeaway pizzas still contained trans fats.
Top 5 saltiest pizzas from supermarkets
1. Tesco Full-on-flavour Simply Pepperoni thin stone-baked pizza (fresh)- 1.8g salt/100g (4.77g per 265g pizza)
2. Iceland Stonebaked Spicy Double Pepperoni Pizza (frozen) - 1.7g salt/100g (6.29g per 370g pizza)
3. Morrisons Extra Thin Triple Pepperoni Pizza (frozen) - 1.7g salt/100g (5.81g per 342g pizza)
4. Dr. Oetker Ristorante Pizza Pepperoni Salame (frozen) - 1.68g salt/100g (5.36g per 320g pizza)
5. Dr. Oetker Casa di Mama Pizza Quattro Formaggi (frozen) - 1.6g salt/100g (6.32g per 395g pizza)
A Pizza Express margherita pizza from a supermarket contains almost half (43%) the amount of salt per 100g than the restaurant takeaway equivalent (0.85g vs. 1.493g salt per 100g) – interestingly, Pizza Express recommend on pack that you only eat half of the supermarket version whereas you would eat the whole restaurant takeaway version.
In fact, there were very inconsistent portion recommendations across the board, which adds to consumer confusion, for example; Dr.Oetker recommends that you eat their entire 395g pizza (Casa di Mama Pizza Quattro Formaggi) which would give you 6.32g of salt – more than the maximum recommendation for an entire day (6g), whereas Chicago Town recommends a portion 5 times smaller, just one quarter of their 305g pizza (Edge to Edge Thin & Crispy California Cheese Pizza), which would give you 0.75g salt - assuming you could stop eating there!
"It makes no sense that one pizza can contain more than your entire daily recommendation for salt, whilst another could be included as part of a healthy balanced diet" Hannah Brinsden, CASH Nutritionist adds "Whilst a lot of the salt is hidden in the pizza base and the cheese, you can still choose to have a healthier pizza by watching out for high salt pizza toppings such as bacon, pepperoni, anchovies, and olives and making sure you check the labels when shopping"
TIPS for eating healthier pizzas with less salt:
Where available, check the labels for less salt
Choose toppings carefully, avoid salty ingredients such as bacon, pepperoni and extra cheese
When eating out, ask for less cheese
Why not try making your own pizza?
For a full list of higher and lower salt toppings, go to our website at www.actiononsalt.org.uk
In response to this research, The Adam & Eve group manager Gareth Leakey said:
"As a small independent outlet it's very helpful and rare to have direction on such aspects of nutrition. "We were informed of the survey two days ago and we have already changed our recipes and suppliers to lower the amount of salt in four pizzas to within recommended levels.We thank Cash for their advice on the salt content of some of our pizzas, as we were unaware of the salt levels of combinations of certain traditional ingredients."
CASH is using Salt Awareness Week 2012 to raise awareness of the serious risk of developing high blood pressure as a result of eating too much salt. High blood pressure triples the risk of heart disease and stroke. Stroke is the third highest killer in the UK [8], two-thirds those who suffer from a stroke either die or are left disabled [9]; many of these deaths and disabilities can be prevented by simply eating less salt. CASH is working with UK charities including The Stroke Association and The British Heart Foundation, along with some high profile supporters:
Joe Korner, Director of Communications for the Stroke Association
"Too much salt can lead to high blood pressure which is the single biggest risk factor for stroke. It's so important to read labels and check how much salt food contains, especially products like ready meals and other processed foods like pizza which may not tend to taste salty, but actually contain a significant amount of salt.Although many people recognise that too much salt can be bad for them, they may not realise that before you add any salt to your food, you may have already consumed up to five times your recommended daily amount without even tasting it. Reducing your salt intake reduces your chances of having a stroke. We need clear labeling on all food products so we can make real choices about what we eat."
Helen Clark, the Association of London Environmental Health Managers (ALEHM)
"With the Director of Public Health coming back into local authorities, there is an ideal opportunity for more work to be done to improve health at a local level. Small independent outlets are enthusiastic about improving the food they sell and through the ALEHM and the Healthy Catering Commitment scheme we are able to support them to do so. We will be taking the pizza leaflet into food businesses on our visits and discussing with them how they can reduce the salt and fat content in their pizzas, and we will also encourage them to offer healthier choices and smaller portion sizes"
Tay Potier, Chartered Institute of Environmental Health
"This excellent survey is a stark reminder of the need to provide consumers with more information about the ingredients used in some of our favourite takeaways foods. The CIEH is encouraging food establishments in the capital to sign up to the Healthier Catering Commitment, which allows food businesses to achieve certification if they can demonstrate a commitment to reducing the amount of saturated fat, sugar and salt used in food sold to customers"
Amanda Ursell, Nutritionist
"I urge everyone to think about their own diet and how they can lower their salt intake. It doesn't mean that you have to consign yourself and your family to 'tasteless' food and ban everything that is processed. Once you get in to the swing of things and swap to lower salt breakfast cereals, breads and baked beans for example, and use naturally salt free options like potatoes, pasta and rice at meals, your tastebuds quickly adjust."

##END##
Ref 1 – The Association of London Environmental Health Managers (Alehm) represents senior managers of London's 33 environmental health services and the London Port Health Authority.
Ref 2 – M O'Donnell et al. Risk factors for ischaemic and intracerebral haemorrhagic stroke in 22 countries (the INTERSTROKE study): a case-control study. 2010.The Lancet, 376:9735,112 - 123
Ref 3 - Survey details
The survey looked at pepperoni and margherita pizzas from takeaway outlets in 17 London Boroughs and 8 supermarkets. In total 199 pizzas were included, including 81 pizzas from takeaways and 118 from supermarkets. 108 were Margherita, 85 were pepperoni.
Takeaway data: ALEHM officers sampled pizzas sold in local pizza takeaways in Nov 2011. Pizzas were analysed for fat/sat fat/trans fat/sodium/Kcal per 100g. Pizza weight, Pizza diameter and Pepperoni weight was also recorded. The samples were analysed by Eurofins Laboratories Ltd who hold UKAS/ISO17025 accreditation
Supermarket: CASH collected information in store in Febraury 2012. All products mentioned in this release were rechecked 20th March. Salt/Sodium/Calories/fat/sat fat per portion/100g; Front of pack labelling; Pack weight; Portion weight was captured using a digital camera.
The survey looked at Margherita and pepperoni pizzas only.
INCLUDE: pepperoni, pepperoni feast, margarita, cheese and tomato, deep pan/thin crust
EXCLUDE: four cheese (unless no alternative available in range), meat feast, sausage, triple meat, hot & spicy, cheese and pesto, stuffed crust
CASH also accessed leading chain information online for pepperoni and margarita medium pizza (where information was available): Domino's, Pizza Hut (NB - portion size and per 100ginformation from the major chains was not available online)
Ref 4 – Atlantic seawater has a salt concentration of 2.5g/100g
Ref 5 – Department of Health 2012 salt targets for pizza as part of the Responsibility Deal are:
Average 1.0g per salt 100g
Maximum 1.25g salt per 100g.
Ref 6 – Lowest 5 supermarket pizzas per 100g
| | | |
| --- | --- | --- |
| Product | Pizza Weight (g) | Salt per 100 g |
| Morrisons Kitchen Cheese & tomato (Fresh) | 106 | 0.47 |
| Morrisons Savers Cheese & Tomato Pizza (Fresh) | 240 | 0.5 |
| ASDA Chosen By You Cheese & Tomato Pizza (Fresh) | 106 | 0.567 |
| The Co-operative Stonebaked Margherita Pizza (Frozen) | 350 | 0.6 |
| Weight Watchers Thin & Crispy Margherita Pizza | 225 | 0.6 |
Ref 7 - Nutrient profiling system cut offs
| | | | |
| --- | --- | --- | --- |
| | Green (Low) | Amber (Medium) | Red (High) |
| Salt | ≤ 0.3g/100g | >0.3 to ≤ 1.5g/100g | >1.5g/100g |
| Saturated Fat | ≤ 1.5g/100g | >1.5 to ≤ 5.0g/100g | >12.5g per 100g (6.0g/portion) |
Ref 8
NAO (National Audit Office) (2005). Department of Health, Reducing Brain Damage: Faster access to better stroke care. The Stationery Office: London
Scarbroough P, Bhatnager P, Wickramasinghe K et al (2010) British Heart Foundation Coronary Heart Disease statistics 2010 edition. British Heart Foundation: London
Please note all figures are accurate on March 2012. Please double check figures if using them after this date