CASH HELP THE NATION TO SWITCH TO HEALTHIER FOOD OPTIONS BY LAUNCHING SALTSWITCH SMARTPHONE APP
➔ A SHOPPING BASKET OF GROCERIES COULD CONTAIN 64g SALT - THE EQUIVALENT OF 128 BAGS OF CRISPS
➔ CHECKING THE LABELS & SWITCHING TO LOWER SALT OPTIONS COULD REDUCE YOUR INTAKE BY UP TO 72%
➔ DEPARTMENT OF HEALTH FINALLY RELEASE NEW SALT TARGETS FOR MANUFACTURERS
For media coverage: Salt Awareness Week 2014 Media Coverage
CASH [Consensus Action on Salt and Health] is highlighting the shocking and unnecessary levels of salt hidden inside our weekly shopping baskets for National Salt Awareness Week 2014. In a bid to help UK consumers reduce their risk of heart attacks and strokes, CASH is today launching SaltSwitch [Ref 1].
The FREE SaltSwitch App is a new feature of the popular health app, FoodSwitch, which was developed by CASH, in association with The George Institute for Global Health and supported by a further 11 health organisations. The app allows users to scan the barcode of nearly 90,000 packaged foods sold across major UK supermarkets using their smartphone camera to receive immediate, easy to understand colour-coded nutritional information along with suggested similar, less salty products by 100g [Ref 2]. It is now easier than ever for consumers to reduce excessively high levels of salt in their families' diet.
CASH has looked at examples of the most popular foods eaten by several different age groups based on the National Diet and Nutrition Survey (NDNS), and has compiled 'typical shopping baskets', which have revealed some alarming results [Ref 3]. For example, based on types of foods eaten by a student (18-22 year old), a shopping basket of higher salt products can contain up to 58g of salt, while that of a mother (30-39 year old woman) can contain up to 64g of salt – the equivalent of 128 bags of crisps [Ref 4]. However, if they were to make some simple switches to lower salt options, the shopping basket of the student could be reduced to 22g of salt and that of the mothers' could be reduced to 18g of salt, the equivalent of just 36 bags of crisps - cutting their salt intake by a staggering 62% and 72% per week respectively. This shows us that by making more informed choices we could all improve our long term health and reach the 6g a day maximum recommended intake for salt.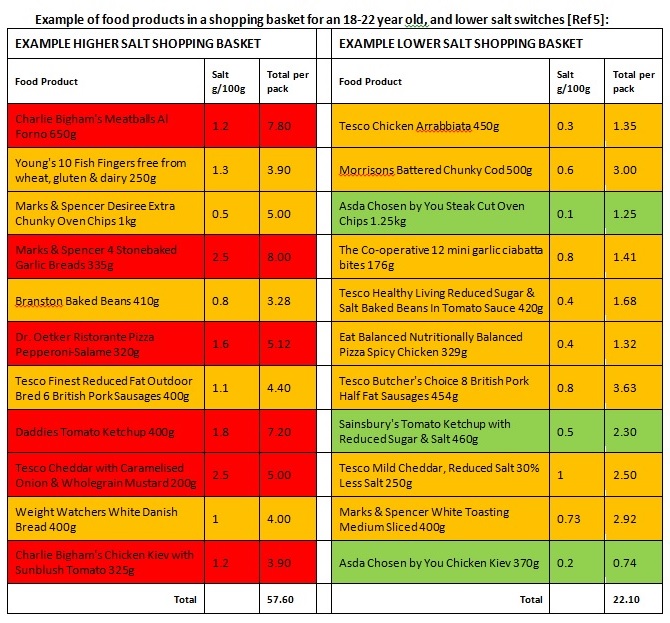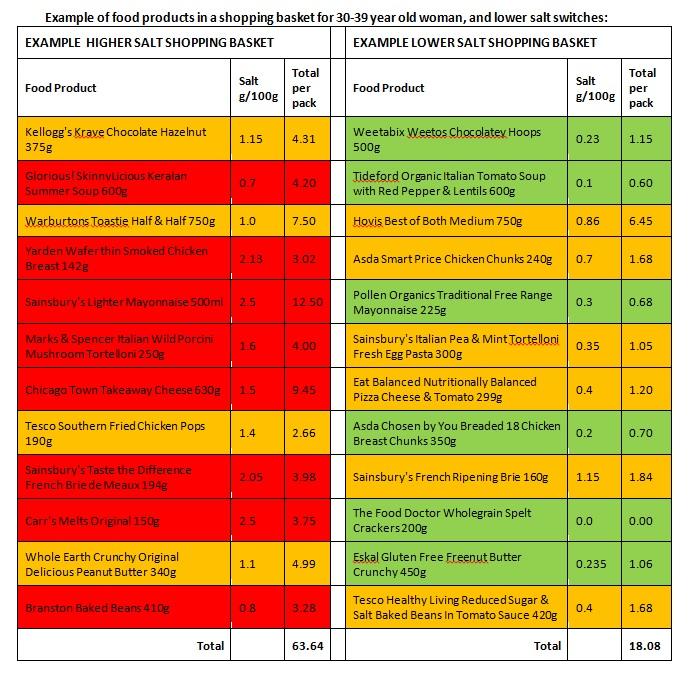 "Providing good labelling is all about putting the shopper back in control." Katharine Jenner, Campaign Director of CASH says, "SaltSwitch is not about telling people to stop or avoid certain foods but rather highlighting differences in products. This makes it easier than ever to switch to less salty, and therefore healthier, food choices in your weekly shop. Salt puts up our blood pressure, and as a result, thousands of people die unnecessarily each year from strokes, heart attacks and heart failure."
The survey found huge variations within meals, which could hugely impact on your daily salt intake. For example, one meal of soup and toast could total over half your daily maximum recommendation of salt (3.14g), but you can switch to lower salt options which total less than a gram (0.94g). A child's meal of fish fingers, chips and beans could be dramatically reduced from 3.38g to 1.8g [Ref 6].
"It is hard to know how much salt we are really eating" Sonia Pombo, Nutritionist for CASH says: "Identical looking products can contain hugely different amounts of salt – looking at the labels can help you make healthier choices for you and your family. SaltSwitch uses the new voluntary front of pack labelling scheme which is being rolled out this year [Ref 7], so it is a great tool to use to get to grips with what the labels mean."
As a nation we are still eating too much salt, with a population average intake of 8.1 grams per day, much more than the maximum daily recommendation of 6g (about a teaspoon). The Department of Health estimates that reducing salt intakes by just 1g - a pinch of salt - would save 4,147 preventable deaths and £288 million to the NHS every year [Ref 8]. A high salt diet is also linked to a number of other serious health conditions such as stomach cancer, osteoporosis and kidney disease.
SaltSwitch allows individuals to choose products with less salt but at the same time, the food industry must reduce the huge and unnecessary amounts of salt they put into our food. At long last, the Department of Health has recently announced the latest salt targets for different foods which need to be achieved in the next three years [Ref 9]. Given the huge variation in salt content of similar foods, it is vital that the Department of Health rigorously enforces these new targets and do not rely on the Responsibility Deal which allows the industry to call the shots.
"This is great news for consumers as they can now easily and for the first time choose products with less salt" Graham MacGregor, Professor of Cardiovascular Medicine at The Wolfson Institute of Preventive Medicine, Queen Mary University and Chairman of CASH comments: "It is also good news that the Department of Health has finally set new salt targets for the food industry to achieve and it is vital that these salt targets are enforced and that the huge discrepancy in the salt content of similar foods is reduced as this will lead to many thousands of people being prevented from having strokes and heart attacks. If the Department of Health does not enforce these targets then legislation must be enacted".
National Salt Awareness Week 2014 (10th – 16th March) is centred around the need for more consistent front of pack nutritional labelling - something that CASH has long been pushing for, and the launch of the SaltSwitch App. The attention will be focussed on the need for better labelling; congratulating those who have signed up to the Department of Health's new front of pack labelling scheme, and encouraging others to follow suit.
Search iTunes and Google Play for 'FoodSwitch' or follow the links:
iTunes - https://apps.apple.com/gb/app/foodswitch/id1059284559
Google Play – https://play.google.com/store/apps/details?id=com.foodswitch.android
FoodSwitch is available as a free, UK-only download from iTunes and Google Play. FoodSwitch is compatible with Apple mobile devices that have a camera with auto-focus running iOS 5.0 or later, and Android phones running versions 2.3.x, or 4.0.x
Apple, iPhone and iTunes are trademarks of Apple Inc., registered in the U.S. and other countries.
Notes to Editor
Go to Welcome to Consensus Action on Salt and Health website for more information or contact:
● CASH - Katharine Jenner on: 020 7882 6018 or 07740 553298, k.jenner@qmul.ac.uk
● CASH – Sonia Pombo on: 02078825941 or 07951905449, s.pombo@qmul.ac.uk
● CASH - Professor Graham MacGregor on: 07946 405617, g.macgregor@qmul.ac.uk
● National PR - Jessica Filbey or Kate Licnachan on: 0207 242 2844 / 07967215644 jessicaf@taste-pr.com or Katel@taste-pr.com
#SaltSwitch
Ref 1 – About SaltSwitch
SaltSwitch provides nutritional information of products and suggested alternatives that are lower in salt. Salt is calculated from sodium (2.5) and is rounded to 1 decimal place.
Nutritional information has been collected for nearly 90,000 products, which we estimate represents over half of all UK grocery. We strongly encourage users to crowd source their favourite products using the App, and also to let us know if product data is different to that displayed, or the swaps are not helpful, via the feedback function. These changes will then appear in future updates to the App.
The information is current and based on our considered best available sources of evidence and information as of 28th February 2014. Whilst every care has been taken to ensure the accuracy of the data, no warranty of the truth or of this accuracy is provided. For the full Disclaimer and Terms of Use please visit www.foodswitch.co.uk
The app is free, impartial and carries no advertising.
Ref 2 –SaltSwitch was developed by the FoodSwitch UK team, which comprises leading independent nutrition researchers who include:
− Consensus Action on Salt and Health (CASH); a charity concerned with salt and its effects on health, supported by 25 expert scientific members. CASH is based at Wolfson Institute of Preventive Medicine, Barts and The London School of Medicine & Dentistry, Queen Mary, University of London, EC1M 6BQ, Charity Registration Number: 1098818
− The George Institute for Global Health; whose mission is to help improve the health of millions of people around the world. With centres in Australia, China, India, the UK and partners and programs around the world, The George Institute is ranked among the top 10 research institutions globally for scientific impact
− The British Heart Foundation Health Promotion Research Group, Nuffield Department of Population Health, University of Oxford; who conducts internationally renowned research into population approaches to disease prevention
− The Medical Research Council; Human Nutrition Research; who aim to improve health through nutrition research
The FoodSwitch UK team are supported by a further nine charities and academic institutions in the UK:
− Blood Pressure UK
− Heart UK
− Kidney Research UK
− National Obesity Forum
− National Osteoporosis Society
− Queen Mary University of London
− Stroke Association
− Sustain (Children's Food Campaign)
− The British Dietetic Association
Ref 3 – Data from the 2011 National Diet and Nutrition Survey (NDNS) was used to assess the most commonly consumed processed foods, whereby daily food consumption was calculated using a 4 day food diary. Data was broken down into specific age groups; 18-22 year old males and females, 30-39 year old woman, and 5-11 year children.
o Data from the 4 day food diary were broken down into 68 food and drink categories (and recorded in grams).
o For each age group, the top 20 most consumed processed foods (excl. beverages, unprocessed fruits and vegetables and sweet treats) were highlighted.
o Using this information, we looked at examples of foods that people may include in their weekly shopping basket (see tables for examples). Using our database (includes nearly 90,000 products) we selected food products containing high levels of salt, and compared them to similar alternatives with lower salt.
Data downloaded from UK Data Service [accessed 29th April 2013]
http://discover.ukdataservice.ac.uk/catalogue/?sn=6533&type=Data%20catalogue#documentation
Ref 4 – A standard 32.5g packet of Walkers Ready Salted Crisps contains 0.5g of salt (8.5% of the daily maximum recommendation of salt)
Ref 5 – Product data were collected using the FoodSwitch App in February 2014 and products in this release purchased and checked w/c 3rd March 2014.
Ref 6 -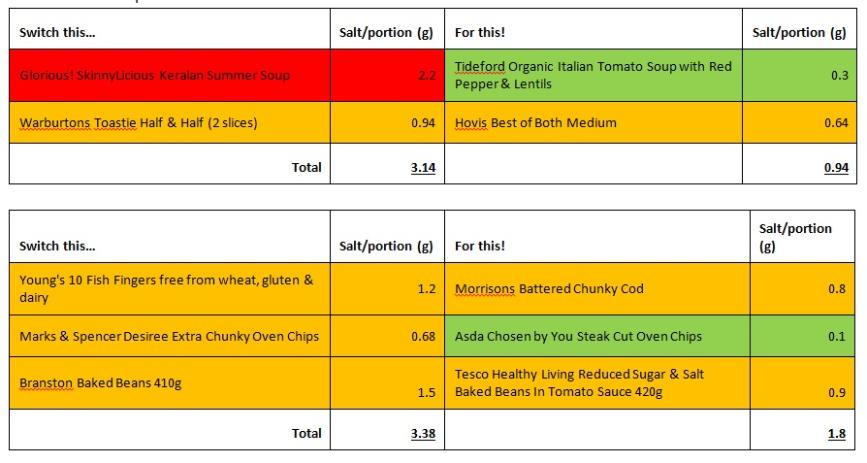 Ref 7 – Colour-coded Nutrition Labelling
The ratings for red, amber and green for each nutrient are based on the Department of Health Guide to Creating a Front of Pack (FoP) Nutrition Label for Pre-packed Products Sold Through Retail Outlets:
https://www.gov.uk/government/uploads/system/uploads/attachment_data/file/207588/FINAL_VERSION_OF_THE_2013_FOP_GUIDANCE_-_WEB.pdf
Traffic light labels are given per 100g/ml.
Energy (calories and kilojoules) are not coloured.
Ref 8 – The Public Health Responsibility Deals 2012 Salt Reduction Pledge
https://responsibilitydeal.dh.gov.uk/f2-factsheet/
Ref 9 – The Public Health Responsibility Deal Salt Reduction 2017 Pledge
https://responsibilitydeal.dh.gov.uk/pledges/pledge/?pl=49