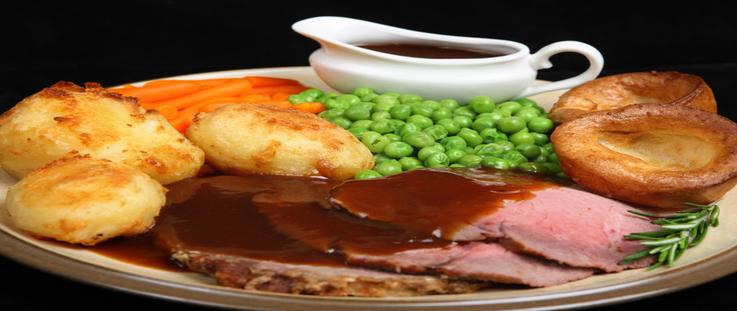 5th December 2010
A roast dinner could contain nearly 10g of salt! 160% of the maximum daily recommendation
A portion of a stuffed beef joint from ASDA was found to contain 2.3g, more than a third of your daily salt recommendation
Pre-prepared vegetables, potatoes, gravy and stuffing could each contain more than 1g of salt per portion
For Media Coverage: Roast Dinner Media Coverage
Click here for all data - Roast Survey - Full Data [PDF 429KB] or Roast Survey Full Data spreadsheet [DOC 217KB]
A roast dinner with all the trimmings can contain nearly 10 grams of salt – 4 grams more than an adult's maximum for the entire day!
05.12.10. In the largest survey of its kind, Consensus Action on Salt and Health (CASH) looked at nearly 600 roast dinner products and found that you and your family could be consuming excessively high levels of salt in your Sunday roast [Ref 1]. The quick and easy options such as ready-stuffed joints may help save time but can be full of unnecessary salt. When eaten with ready made gravy, stuffing, vegetables, Yorkshire puddings, condiments and a dessert, you could easily exceed the adult's maximum recommended salt intake for a whole day (6g) and far exceed the daily maximum for a child [Ref 2].
Combined, the highest available products for a typical 'roast beef Sunday lunch' contained nearly TEN grams of salt (9.61g) [Ref 3], 160% of an adult's daily maximum recommendation. A 'Peppered Beef Brisket Joint with Mustard & Pepper Stuffing' from ASDA's new 'Chosen By You' range contains 2.3g of salt per portion, a THIRD of your daily maximum.
And it's not just the meat that can be high in salt – add in vegetable side dishes and a teaspoon of mustard and the salt will quickly add up. A pre-prepared vegetable dish could contain up to 1.6g of salt per portion (Tesco Finest Root Vegetable Mash) and roast potatoes could contain up to 1.3g of salt per portion (Tesco Finest Goose Fat Roast Potatoes). A portion of Morrisons' or Tesco's English Mustard contains 0.5g of salt, as much as a packet of crisps [Ref 4].
In fact, a quarter of the surveyed condiments such as mustard and horseradish (22 out of 91) were found to have a greater salt concentration than Atlantic seawater [Ref 5]; nine English mustard products had a salt concentration three times higher than seawater.
The saltiest products in a typical Roast Beef Sunday lunch [Ref 3]:
Roast Beef - ASDA Chosen By You Peppered Beef Brisket Joint with Mustard & Pepper Stuffing (2.3g per 212..5g portion)
English Mustard – Tesco/Morrisons English Mustard (0.5g per 5g portion)
Yorkshire Pudding - Aunt Bessie's 6 Delicious Large Yorkshire Puddings (0.5g per 27.5g portion)
Stuffing* - Marks & Spencer Buttered Onion & Herb Breadcrumb Stuffing (1.10g per 60g portion)
Gravy – Morrisons Beef Gravy (1.3 per 125g portion)
Roast Potatoes - Tesco Finest Goose Fat Roast Potatoes (1.3g per 225g portion)
Vegetable Mash - Tesco Finest Root Vegetable Mash (1.6g per 250g portion)
Cabbage/Greens – Sainsbury's Red Cabbage (1.01g per 150g portion)
Apple Pie - Aunt Bessie's Scrumptious Bramley Apple Pie (0.8g per 151g portion)
Custard - Morrisons Ready to Serve Custard (0.3g per 212.5g portion)
*excluded from the total of 9.61g as the Asda beef already includes stuffing.
If you read the labels you can find some products, even pre-prepared ones, which are lower in salt, for instance ASDA's Butter Basted Chicken Breast Joint contains only 0.3g of salt per portion. Combined with the lowest salt sides, you could have a roast dinner with less than 2g of salt [Ref 3], almost SIX times less than if you were to opt for the highest products. However, whilst the labelling at the major supermarkets has improved, brands and smaller supermarkets such as Iceland are still lagging behind [Ref 6].
Rotisserie chickens do not have labelling so there is no way to know how much salt they contain. CASH analysed their salt content and found large variations depending on where you shop [Ref 1]. Sainsbury's had the highest salt rotisserie chicken with 0.82g of salt per 100g; nearly DOUBLE that of a rotisserie chicken from Morrisons at 0.42g of salt per 100g. Both of these are higher than a standard chicken roasted at home which would contain just 0.25g of salt per 100g [Ref 7].
"A family roast dinner can be a balanced and healthy meal but you do need to be careful when choosing ready prepared ingredients which can all contain a lot of salt" says Katharine Jenner, CASH Campaign Manager. "With all we know about the dangers of salt on our health, it is disappointing that a portion of vegetables or a small amount of mustard could still contain more salt than a packet of crisps."
Top tips to save on salt:
1. Make it yourself! Buy fresh, unseasoned beef, lamb or chicken joints and season them yourself with pepper or herbs – this can reduce your salt intake by more than 2g
2. Avoid the ready prepared vegetables and cook your own with no added salt – this could save over 2g of salt and cost less too
3. Read the labels carefully and choose products that are lower in salt, remembering that children should have less salt than adults
4. Both English mustard and horseradish sauce tend to be very high in salt, opt for apple sauce and mint sauces which are much lower, often containing just a trace of salt
You could also be consuming a huge amount of salt when you go out for your Sunday roast. For instance, according to their website [Ref 8], a Large Half Roast Chicken meal from a Wetherspoon pub contains 8g of salt, more than your daily salt recommendation in just one meal. Even a Children's Roast Chicken Breast meal contains 4g, almost all of the daily maximum for a 7-10 year old (5g) and exceeding the daily maximum for a child aged 4-6 years (3g).
"Unnecessary amounts of salt are still being hidden in our food" says Professor Graham MacGregor of the Wolfson Institute of Preventive Medicine and Chairman of CASH. "This puts both adults and children at risk of developing high blood pressure which causes strokes, heart attacks and heart failure, the commonest cause of death & disability in the UK. It is the food industry's responsibility to
take the salt out [Ref 9]. "
"Cooking and preparing vegetables yourself can be quick and easy, and, as long as you don't add salt when cooking, will give you just a trace of salt" says CASH Nutritionist Hannah Brinsden. "You can add extra flavour to your vegetables, potatoes and meat by using black pepper, garlic, lemon or herbs. For great low salt recipe ideas, check out the CASH website www.actiononsalt.org.uk ".
-END-
Notes to Editor
Go to www.actiononsalt.org.uk for more information or contact:
• Professor Graham MacGregor on: 020 7882 6217 or 07946 405617, g.macgregor@qmul.ac.uk
• Katharine Jenner on: 020 7882 6018 /5941 or 07740 553298, k.jenner@qmul.ac.uk
• Amy Thorne on: 0207 221 5040 / 07525 486100, amy@taste-pr.com / emily@taste-pr.com
Ref 1 –Survey details (Full data available with this release) and tables below:
• This survey looked at 599 products that make up a typical roast meal.
• This included meat (plain, prepared and rotisserie), prepared roast potatoes, prepared vegetables (carrot or cabbage/greens based), Yorkshire puddings, gravy (fresh and granules), sage and onion stuffing, condiments (mustard, bread sauce, mint sauce, apple sauce and horseradish sauce) and a dessert (Apple Pie/Crumble with custard). Fresh, frozen and ambient options were all included. Information was also collected for roast ready meals and for Wetherspoon pub meals
• Product data was collected from product packaging and online from the leading supermarkets: Tesco, ASDA Sainsbury's, Morrisons, Waitrose, Marks & Spencer, The Co-operative, Iceland and Lidl.
• Rotisserie chicken provided no nutritional information so a chicken from each supermarket was purchased and sent off to a Public Analyst Kent Scientific Services for analysis. A portion of meat was taken off the bone for breast, wing and leg, packaged and sent on the day of purchase.
• The survey was carried out in November 2010. All products mentioned in this release were re-checked between 25th – 29th November.
Ref 2 - Daily Salt Maximums in different age groups
| | |
| --- | --- |
| Age Group | Daily salt maximum |
| 1-3 years | 2g |
| 4-6 years | 3g |
| 7-10 years | 5g |
| 11 years + | 6g |

Ref 3 – Highest and lowest products in each category (See Table 1)
Ref 4 – A standard 34.5g packet of Walkers Ready Salted Crisps contains 0.5g of salt.
Ref 5 – Atlantic seawater contains 1.0g of sodium per 100g, which equates to 2.5g of salt per 100g.
Ref 6 - None of the 24 Iceland products in this survey provided front of pack labelling and only a quarter (22 out of 94) of branded products had front of pack labelling
Ref 7 – 6th Edition McCance & Widdowson's roast meat figures (See Table 3)
Ref 8 –JD Wetherspoon's Nutritional Information
Ref 9 – Responsibility Deal – The Food Network

Table 1 – Highest and lowest examples for a typical roast meal
| | | | | | | |
| --- | --- | --- | --- | --- | --- | --- |
| | Highest products | Portion Size (g) | Salt content (g) | Lowest products | Portion Size (g) | Salt content (g) |
| Meat | ASDA Chosen By You Peppered Beef Brisket with Mustard & Pepper Stuffing | 212.5 | 2.3 | ASDA Butter Basted Chicken Breast Joint | 167 | 0.3 |
| Condiment | Tesco/Morrisons English Mustard | 5* | 0.5 | Most apple and mint sauces | 15 | trace |
| Yorkshire Pudding | Aunt Bessie's 6 Delicious Large Yorkshire Puddings ** | 27.5 | 0.5 | Tesco Value 12 Yorkshire Puddings | 15.4 | trace |
| Stuffing | Marks & Spencer Buttered Onion & Herb Breadcrumb Stuffing | 85 | 1.10 | Sainsbury's SO Organic Sage & Onion Stuffing Mix | 50 | 0.3 |
| Gravy | Morrisons Beef Gravy | 125 | 1.3 | Waitrose Poultry Gravy | 83 | 0.27 |
| Potatoes | Tesco Finest Goose Fat Roast Potatoes | 225 | 1.3 | Waitrose (Ready to roast) Maris Piper Potatoes with Rosemary | 175 | 0.04 |
| Vegetable 1 (carrot) | Tesco Finest Root Vegetable Mash | 250 | 1.6 | Marks & Spencer Carrot & Swede Crush | 150 | 0.73 |
| Vegetable 2 (cabbage/greens) | Sainsbury's Red Cabbage | 150 | 1.01 | Sainsbury's Buttered Green Vegetables | 100 | trace |
| Apple Pie | Aunt Bessies Scrumptious Bramley Apple Pie | 151 | 0.8 | Sainsbury's Basics Apple Pie | 100 | 0.05 |
| Custard | Morrisons Ready to Serve Custard | 212.5 | 0.3 | Marks & Spencer Thick & Creamy Custard | 125 | trace |
| | Total (excluding stuffing as comes with the meat) | | 9.61 | Total | | 1.69 |
Table 2 – Highest and lowest prepared meat examples
| | | | | |
| --- | --- | --- | --- | --- |
| Meat Type | High Example | Salt/portion | Low Example | Salt/portion |
| Pork | Iceland (Easy carve boneless basted) Pork Loin Joint with Apple Crust | 1.95g salt /150g portion | Waitrose Butterflied Pork Shoulder with Honey, Garlic & Rosemary | 0.37g salt /167g portion |
| Beef | ASDA Chosen By You Peppered Beef Brisket Joint with Mustard & Pepper Stuffing | 2.3g salt /212g portion | Waitrose (Easy to Cook) Beef with a Horseradish & Mustard Crust | 0.41g salt /183g portion |
| Lamb | ASDA Chosen By You Ready to Roast Lamb Joint with a Redcurrant & Mint Crust | 0.6g salt /187.5g portion | Tesco British Lamb Carvery with Garlic & Rosemary | 0.5g salt /120g portion |
| Chicken | The Co-operative Chicken Crown in Gravy | 1.7g salt /250g portion | ASDA Butter Basted Chicken Breast Joint | 0.3g salt /167g portion |
| Rotisserie Chicken | Sainsbury's Rotisserie Chicken | 0.82g salt /100g | Morrisons Rotisserie Chicken | 0.42g salt /100g |
Table 3 – 6th Edition McCance & Widdowson's roast meat figures
| | | |
| --- | --- | --- |
| Meat Type | Sodium/100g | Salt/100g (calc. from sodium) |
| Beef - Topside, roasted, well done | 62mg | 0.155g |
| Lamb - Leg, whole, roasted medium, lean | 63mg | 0.158g |
| Pork - Join, roasted medium, lean | 69mg | 0.173g |
| Chicken - Roasted, meat, average | 100mg | 0.25g |